6 Places To Sip The Exotic Teas Of India
December 11, 2018 - 2 minutes read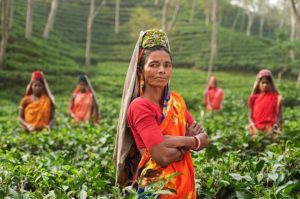 From the herbal Ayurvedic teas of Darjeeling and Assam to the rejuvenating masala teas brewed in the kettles of street vendors in Himachal, India is world renowned for its teas and is, in fact, one of the world's largest tea producers.
Tea lovers will surely agree with that there's nothing quite as tranquil as a nice hot cup of tea. Here's a list of places recommended by Creative Travel to discover the land of tea and become a true tea aficionado.
Darjeeling, West Bengal
With unparalleled aroma and taste, Darjeeling tea occupies a place of pride in India. Visitors can stay overnight at local tea plantation bungalows while enjoying the serene atmosphere and even experience tea-leaf harvesting with locals.
Munnar, Kerala
Often called "Gods Own Country," Kerala offers many exquisite places to visit including Munnar, the location of India's first-
ever tea museum. Most people can't leave without sampling the lingering taste of the region's impeccable flavors and purchasing a bag full of tea packets to savor later.
Assam, Northeast India
Assam is the original home of Indian tea and the nation's largest tea producing region, harvesting around 900 million pounds annually. The state offers hundreds of tea gardens and plantations, where visitors can enjoy a variety of tea including black, green or oolang.
Nilgiri , Tamil Nadu
The mist-shrouded Nilgiri Hills — also known as the Blue Mountains — harbor old hill stations where visitors can enjoy the spectacular taste of locally grown tea throughout the year.
Palampur, Himachal Pradesh
An abundance of tea plantations has made Palampur the tea capital of northern India. Visitors can expect stunning views of snow-clad mountains while sipping flavorful and aromatic Ayurvedic tea.
Kelagur, Karnataka
With the highest elevation fields in Karnataka state, the Kelagur Tea Estate is blessed with ideal growing conditions like high humidity and moderate temperatures. It uses traditional organic methods with a seven-step production process involving various indigenous techniques.
However, the list doesn't end here. Creative Travel has carefully curated "Engaging Journeys" that revolve around India's fascinating tea culture. For inspiration, see here for our most recent Engaging Journey, Tales of the Indian Brew.
Ayurvedic teas
,
black
,
green
,
India teas
,
masala teas
,
oolang tea
,
Tea lovers