Are You Ready for 2018 in Iceland and Greenland?
August 31, 2017 - 2 minutes read
It's never too early to start planning for next year on the North Atlantic, especially with Iceland continuing to gain steam as a bucket list destination.
According to a World Tourism Organization (WTO) report released in late August, the number of people visiting Iceland grew by an astounding 34.9% last year — making it the fourth fastest growing tourism destination on the entire planet.
Forecasts call for continued growth in arrivals and shortages of hotel rooms, rental cars and other tourism necessities across the island.
An amazing way to avoid the rush is traveling with Iceland ProCruises — journeys that give you a guaranteed place to lay your head each night (not to mention their yummy meals) and guaranteed ground transport on shore excursions.
IPC is offering the follo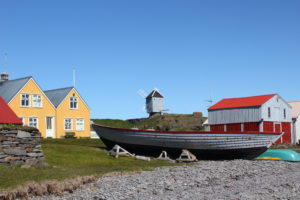 wing itineraries on the MV Ocean Diamond for the 2018 season:
Our most popular cruise, Iceland Circumnavigation is a 10-day journey all around the huge North Atlantic island that starts and finishes in Reykjavik. Among the nine stops along the way are the spectacular Westfjords Peninsula, wildlife rich Grimsey Island, the northern frontier city of Akureyri, picturesque Seydisfjördur (star of the Amazon TV series Trapped), and the volcanic Westman Islands.
For those who only have a single week to spare, IPC also offers a shorter 8-Day Iceland Circumnavigation that includes all of the above highlights except Grimsey.
Iceland and Natural Wonders of Greenland is the outbound voyage, a 12-day passage on the MV Ocean Diamond between Reykjavik and Kangerlussuaq on Greenland's west coast. Passengers disembarking in Greenland can linger on the giant island or fly straight back to Iceland.
The return leg is called Natural Wonders of Greenland and Iceland, another 12-day trip that starts with a flight between Reykjavik and Kangerlussuaq before a exploration of the island's fjord-filled west coast and a sail across the fabled Denmark Strait.
Last but not least, IPC offers 7-day Northern Lights & Whales cruises in September that take revolve around a season when the Aurora Borealis is even more intense and migrating whales come back to Icelandic waters.