Bariloche's Top 5 Adventures
October 11, 2018 - 4 minutes read
Before or after your Andes crossing with Cruce Andino, check out these five things to do in Argentina's famous Patagonian lake and mountain resort town.
Explore Nahuel Huapi National Park
Named after the lake it surrounds, Argentina's oldest national park was established in 1934. Comprising nearly two million acres, this is also the nation's largest park. The massive lake and snow-capped Andes mountains dominate the park. But being so big, there's plenty of acreage left for glaciers, rivers, waterfalls and forests. Wildlife includes river otters, huemul and pudú deer, foxes, pumas, guanacos and a large rodent called the mara. Huillin, an endangered species of river otter, are sometimes also spotted. Birders scan the park's deep-blue skies and thousand-plus plant species for Magellanic woodpeckers, Andean condors, green-backed firecrowns and blue-eyed cormorants as well as green austral parakeets, geese, ducks and swans.
Cruise the Circuito Chico
One of Argentina's most beautiful drives, the 37-mile circuit takes around four hours including stops to eat and take photos around the gorgeous Llao Llao Peninsula. On the way out from Bariloche plan stops at beautiful Playa Bonita (with Huemul Island just offshore) and Cerro Campanario, where you can hike or ride a chairlift up 3,500 feet to viewing platforms with stunning views of Patagonia. The historic Llao Llao Hotel is another great stop for views and nature appreciation, as well as the short walk to the neo-gothic San Eduardo Chapel (built in 1938). About 15 miles from town is Puerto Panuelo, jumping off spot for lake cruises. Linger for awhile at pebbly Playa Villa Tacul and quaff some local suds at rustic Cerveceria Patagonia before heading back to Bariloche via the shores of Lake Moreno and Laguna El Trebol.
Summit Cerro Otto
You can climb or bike up Cerro Otto by way of several different paths (with varying degrees of difficulty) or hop the little red cable car operated by Teleférico Cerro Otto. The cable car trip takes about 12 minutes with proceeds from your ticket going to local hospitals. You can also reach the mountain via Teleférico's free shuttle buses from two stops in Bariloche or drive yourself to the top along a gravel road (4×4 recommended). However you reach the summit, the panoramic views are well worth the trip. In winter, cross-country skis and sleds are for rent at the cafeteria. The Cable Car Complex also house an art gallery — with full-sized replicas of Michelangelo's David, Pietà and Moses — as well as a nightclub, small movie theater and shops.
Savor Chocolate and Dinosaurs
Bariloche boasts half a dozen good museums. But if you're traveling with children we suggest stops at the area's newest addition and the only one of its kind in the area — the flavorsome Museo del Chocolate (Museum of Chocolate). Having satiated their sweet tooth, take the kids to Parque Nahuelito, a dinosaur museum and theme park that features over 30 life-size creatures from the primordial past. One and a half hour guided tours (in Spanish) run every half hour or so.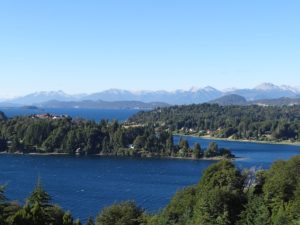 Get wet!
As the largest and deepest water body in Argentina's Lake District, Nahuel Huapi is a hub for all different kinds of water sports. First and foremost are six beaches: Playa del Centenario, Playa del Centro, Playa Melipal, Playa Bonita, Playa Serena, Playa Villa Tacul. Aquatic recreation runs a broad gamut from kayaking, windsurfing and kitesurfing, to boat trips, fishing, and even scuba diving. If swimming in an Andean lake is on your bucket list, Playa Serena tends to have the warmest water, Villa Tacul the coldest.
Argentina
,
Bariloche
,
Lake vacations
,
Patagonia
,
what to do after Cruce Andino