Captain Söderholm's Amazing Feat
June 4, 2017 - 2 minutes read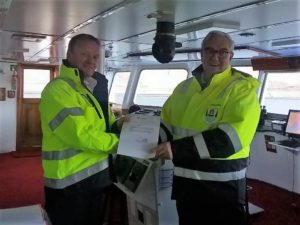 is proud to announce that Captain Hans Söderholm of the MV Ocean Diamond  is the first non-Icelandic skipper to earn an official piloting permit for an Icelandic harbor. He can now navigate in the narrow, shallow waters of Isafjördur without the help of a local pilot.
Born and raised in Finland, Captain Söderholm qualified for this achievement through many years of cruising in and out of the Isafjördur aboard the Ocean Diamond on IPC's "Iceland Circumnavigation" itineraries. The captain's next goal is to extend his special piloting permits into the harbors of Husavik and Akureyri in northern Iceland.
From the middle of May to mid-July, and then again in early September, IPC's circumnavigation cruises depart Reykjavik at the start of ten- and eight-day cruises that completely circle the large north Atlantic island.
On her way around the mystical island of volcanoes, the ship stops at Stykkisholmur, Isafjördur, Siglufjördur, the island of Grimsey off the wild northern coast, Akureyri, Husavik, Seydisfjördur, Djupivogur and Vestmanneyjar.
The 199-passenger Ocean Diamond is a modern and cozy cruise ship with the capability of visiting places along the coast where large ships cannot go. Best described as soft adventures, the cruises are crewed by a team of passionate, experienced and adventurous Icelandic experts who speak both German and English.
Passengers encounter Iceland's spectacular nature from the waterside as well as on land, where a wide variety of optional interesting and often adventurous shore excursions are available to book. The combination of natural wonders and the Icelandic way of life makes this cruise an unforgettable journey.
Prices for this ten-day journey (nine nights on board) start from US$1,995 per person.