Elewana's Shanga is More Than Just an Awesome Shop
December 14, 2018 - 3 minutes read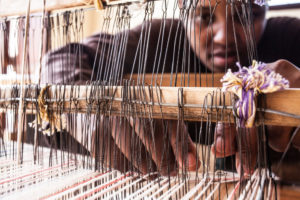 The Shanga is based at Elewana Arusha Coffee Lodge in Tanzania and has always been special, not just as a place to buy unique, high-quality jewelry, glassware and other items, but also because of the example it sets as a successful social enterprise.
Shanga features an workshop for glass-blowing, weaving, sewing, Tinga Tinga painting, bead-making and metal work, as well as a shop showcasing its handmade products. Those making these products — and staying gainfully employed in the process — are local people with disabilities.
Part of Elewana's Corporate Social Responsibility commitment to the people of Tanzania, the products are sold both locally and all over the world. All profits are reinvested back into the development of new products and further employment of Tanzania's people with disabilities..
Shanga was born in 2007 when local resident Saskia Rechsteiner made a handful of fabric necklaces for a Christmas fair in Arusha. Combining local fabric with beads and her sons' marbles, she created unique jewelry pieces that sold out within hours.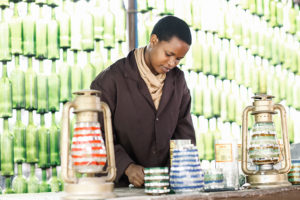 After the fair, Saskia received orders to make similar necklaces, but she needed help filling them. She employed a girl who was hard of hearing. However, when the orders kept multiplying, so did her staff until she had to find a larger space than her home workshop. Saskia's husband found an abandoned riverside house that was about to be torn down, and the workshop moved there in September 2008.
To generate more customers and income, Saskia and her parents created the River House Restaurant, attracting an increasing number of customers with a menu of healthy, homemade lunch dishes. The income from the restaurant helped to pay the salaries of the artists at the Shanga workshop. In 2016 Saskia sold Shanga to Elewana and moved to its purpose built workshop in the grounds of Arusha Coffee Lodge.
Today there are more than 60 employees — 34 of them with some kind of disability. The current goal is employing more than 100 workers with disabilities and replicating the Shanga model elsewhere.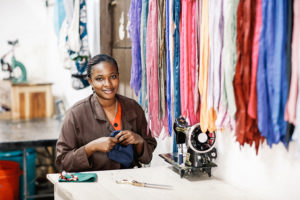 The workshop offers free tours and additional activities can include a free sign language class. There's a huge taboo against people with disabilities in Tanzania, as life is tough enough for those who have no disability. Only 5% of the nation's deaf are educated. Arusha has no school for the deaf. And only one classroom at one school in Arusha teaches children with hearing disabilities — over 50 of them in one class without a qualified teacher.
All those who visit Shanga experience our philosophy of "Ability over Disability" and our work incorporates recycling into many aspects of our workshop and products. Shanga is constantly looking for ways to educate further in all area and subjects connected to the workshop. Shanga also creates bespoke products to order. So please pop into the shop or email orders@shanga.org to discuss your needs and ideas.
African arts and crafts
,
Arusha Coffee lodge
,
Elewana
,
Shopping in Arusha
,
Tanzania shopping