Elsa's Kopje Celebrates World Lion Day
November 7, 2018 - 1 minute read
Managers George and Theresa Van Wyck of Elsa's Kopje celebrated World Lion Day by honoring one of the animal kingdom's most beautiful and regal creatures at the Elewana Collection safari lodge in Meru National Park — and reflecting on the lives of George and Joy Adamson, two of the pioneers of lion conservation in Africa.
George Adamson devoted himself to raising young lions who could not fend for themselves and trained them to survive in the wild, acting as a role model to the rest of the world and demonstrating the dedication necessary to save the iconic species from becoming endangered.
Following the amazing work started by George, the Born Free Foundation started the Meru Lion Heritage Project,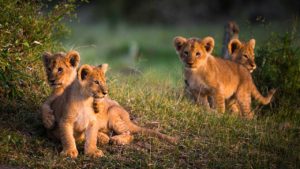 tracking and monitoring the big cats, deploying de-snaring teams and working to reduce human-wildlife conflict.
Habitat loss has resulted in increased contact between lions and local communities — not just in Kenya, but all over Africa — leading to a collapse in lion numbers of between 30 and 50 percent in the last 20 years. Only around 20,000 African lions survive in the wild.
World Lion Day gives us a chance to appreciate the work done by so many foundations and organizations like Born Free, as well as increasing awareness of what we can all do to contribute to the protection and conservation of the King of the Jungle.
africa
,
Elsa the Lion
,
Luxury safari
,
The Elewana Collection
,
World Lion Day