Elsa's Kopje hosts Virginia McKenna . . . and memories of Born Free
June 18, 2018 - 3 minutes read
Elsa's Kopje safari lodge in Meru National Park recently hosted Virginia McKenna, star of the 1966 box office hit Born Free. During her visit, the legendary actor regaled the staff and other visitors with tales of Meru in the 1960s while they were making the film and her life's work with the Born Free Foundation.
Born Free, the bestselling book and subsequent award-winning movie, recounts the lives of George and Joy Adamson and their efforts in raising Elsa the lioness after she was orphaned as a tiny cub. They taught her how to hunt and survive on her own, ultimately returning her to the wild.The book and movie have been credited with forever redefining the meaning of wildlife conservation. The Adamsons went on to establish the Born Free Foundation, which is still protecting wildlife today.
The Adamsons forged a great friendship with McKenna (who played Joy in the movie) and Bill Travers (who played George), inspiring the two actors into a life dedicated to wildlife conservation.
Elsa the lioness is buried in Meru and Joy's ashes were scattered at her gravesite.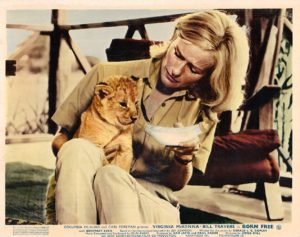 George is buried in neighboring Kora National Park with his brother Terrence and two of his orphan lions, Supercub and Boy.
Meru, with its wide-screen grandeur and epic landscapes, is one of Kenya's most celebrated parks. Straddling the equator northeast of Mount Kenya, the national park covers 870 square kilometers. It boasts an enormous diversity of habitat and wildlife ranging from cool forests to open semi-desert plains dotted with giant baobab and doum palms.
Part of the Elewana Collection, Elsa's Kopje has long been hailed as one of Kenya's most wildly romantic retreats. The lodge is located on Mughwango Hill, just above the site of George Adamson's original camp, where he raised his orphan lions and released them back into the wild.
Each cottage is individually designed, incorporating the natural features of the kopje (rocky outcrop) and flaunting spectacular panoramas of the vast Meru landscape.
An elegant open-air dining area and bar and dramatic infinity pool sculpted into the natural rock confirms this award-winning, boutique lodge as one of the most elegant and luxurious places to stay in all of Africa.