Engaging Journeys Crafted by Creative
May 10, 2018 - 5 minutes read
Creative Travel offers a number of special interest Engaging Journeys through India led by experts in their fields, trips that are sure to surprise and delight travelers looking for out-of-the-ordinary South Asia travel experiences.
Selling points of these programs include:
GUARANTEED JOURNEY OPERATION WITH MINIMUM 2 GUESTS.
All special journeys are led by an expert resource, celebrated in their field of expertise.
Unique itineraries – interest-based journeys
Small intimate groups. Never more than 12 couples in each journey.
Comprehensive inclusions including cultural interaction with locals & authentic local cuisine experiences.
Accommodation in personally selected deluxe properties.
Some of these Engaging Journeys are listed below. Meanwhile, you can find out more about their details and pricing at the following links:
Engaging Journeys, Crafted by Creative 'Brochure'
Engaging Journeys, Crafted by Creative 'Overview'
Engaging Journeys, Crafted by Creative 'Prices'
Culinary Adventures
The Emperor's Table (Sept 8-21, 2018): Prolific culinary author Salma Husain — whose books include The Emperors Table: The Art of Mughal Cuisine — leads a tasty exploration of Indian street food through curated walks, during which guests relish various delicacies, learn about the Indian culinary arts, and even sip some wine.
Tales of the Indian Brew (Oct 22-Nov 2, 2018): Tea is the focus of this fascinating journey to experience the rich selection of Indian brews, visit a tea plantation and gain insight into its production, along with an exclusive tea tasting and interactive session. The trip is led by Anamika Singh, a self-described tea drinker by birth and tea taster by profession. Singh has launched her own brand of Anandini Himalaya Tea (a mix of natural flowers and herbs) and regularly conducts tea-tasting ceremonies.
Architecture
India's Architecture Marvels (Oct 18-29, 2018): Learn, experience and indulge in stories of the architectural wonders of India with art and design historian and heritage expert Seema Srivastava.
Safari
Glamping and the Royals (Nov 24-Dec 7, 2018): Sample the glamorous camping sites of India, relish the South Asian wilderness and have close encounters of the animal kind on an adventurous safari with Rajput gentleman Hemender Singh.
Art & Culture
Camel & Cultural Extravaganza (Nov 11-23, 2018): Hemant Malhotra, an expert in Indian culture and religion, leads a journey through the rich culture and heritage of India, as well as the royal way of living. The tour includes a visit to the extravagant Pushkar Fair.
The Big Fat Indian Wedding (Nov 14-24, 2018): Attend a traditional Indian wedding, get insight into the rituals, and savor the delicacies of the nuptial feast with Pankaj Sharma, owner of the successful wedding planning and management company Dream Day Creations.
An Indian Art Affair (Jan 23-Feb 4, 2019): Explore the treasures of modern and ancient Indian literature, history and art — and visit a Bollywood studio — with Seema Srivastava, a veteran art historian, cultural theorist, teacher and designer.
Artists of the Indian Desert (Feb 2-16, 2019): Visit spectacular palaces and forts, learn about Indian textiles and handicrafts, and visit the Rann Utsav — an extravaganza of music and dance set beneath the full moon on a sprawling salt desert — with Rema Kumar. A textile designer based in Delhi, Rema has worked with a large cross-section of weavers and master craftsmen throughout India for almost two decades
Heritage of Humanity (Feb 11-24, 2019): The various religions and cultures of India are the focus of this journey to attend Kumbh Mela, the largest religious gathering in the world and a photographer's delight. Indian culture and religion expert Hemant Malhotra leads the trip.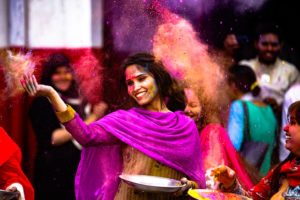 Multi Hues of India (March 13-24, 2019): Experience Holi, the festival of colors, an event that signifies the victory of good over evil, as well as the arrival of spring and the end of winter. Indian culture and festival expert Sathya Rao leads a trip that includes celebrating Holi with a noble family and enjoying traditional food.