Family Adventures in the Peruvian Amazon
November 14, 2018 - 2 minutes read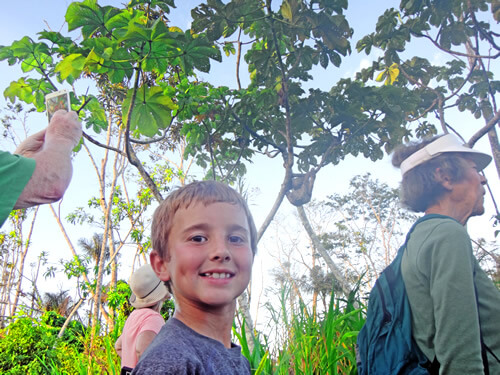 Family trips to the Peruvian Amazon are a great way to tighten bonds as parents and children share unforgettable experiences along the river and in the rain-forest. Here are five adventures that families can undertake on Jungle Experiences cruises:
1. Jungle treks
What better way than a rainforest walk to discover incredible plants and animals living in a world that will amaze both the young and young at heart.
With the help of Jungle Experiencies' naturalist guides, parents and children can explore the mysterious heart of the jungle
in total safety and discover exotic species through their experienced eyes.
2. Different cultures
Visiting locals along the rivers of Amazonia is an especially rewarding experience. Meeting and mingling with people of such different cultures will open the eyes and hearts of your children, while a school visit introduces your kids to a whole new world of living and learning.
 3. Incredible views
Connected family suites aboard Jungle Experiences riverboats allow everyone to share sensational Amazon views and spectacular sunsets together.
4.  Fun on board
If your children have any energy left after a day of discovery, they can learn traditional dances and songs, or join onboard games with our fun crew. That means mom and dad can enjoy the peace and quiet that comes with occupied children.
5. Challenging mind and body
Jungle Experiences' naturalist guides set out to make your little ones feel like authentic explorers by offering numerous challenges that test your family's adventurous spirit (while keeping everyone 100% safe).
Sighting and photographing Amazon animals, traditional cooking classes, dances and drawing … there is much to conquer. And all children finish the voyage with a "Small Explorer" diploma!
The Peruvian Amazon has much to offer both children and adults. Check our next departures and embark now on a trip where fun, discovery and magic are assured.
Amazon vacations
,
Exotic holidays for families
,
family vacations
,
Fun holidays for Children
,
Jungle Experiences