For Sale: Blue Lagoon, slightly used, good condition
July 7, 2017 - 1 minute read
 Iceland Magazine reports in its May issue that the Blue Lagoon — one of the nation's premier tourist attractions — is up for sale. Or at least a third of it is.
HS Orka, the power utility that has owned a large share of the Blue Lagoon complex since its creation, is selling a 30% stake in the steamy attraction.
Even though the business is apparently very profitable, Orka says that running a tourism enterprise doesn't mesh with its core business of  producing electricity at Svartsengi geothermal power plant from the same water that feeds the lagoon.
There is something of a groundswell among locals that the 30% share should go to the people of Iceland — given the fact that it's a national treasure — rather than some corporate entity.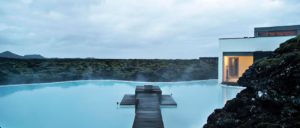 Meanwhile, the Blue Lagoon complex continues to expand and upgrade. Coming this fall is a new 62-room Moss Hotel with luxury underground spa, gourmet restaurant and butler service. Rooms will have direct access to a section of the lagoon not open to the general public and surrounded by giant boulders for privacy. Rates will range from US$920 to US$2,300 per night.