Lingering Among the Lengas — Two Special Las Torres Excursions
February 6, 2018 - 2 minutes read
Among the all-inclusive excursions available to guests at Hotel Las Torres are two special adventures that reveal a much different side of Torres Del Paine National Park.
The Bosque de Lenga and Valle Encantado trips are designed to give visitors a greater understanding of and a real appreciation for Patagonia's famous lenga forests. In the company of a guide, participants hike or horseback ride through the lenga forest between the eastern edge of the Paine Massif and the valley of the Rio Paine.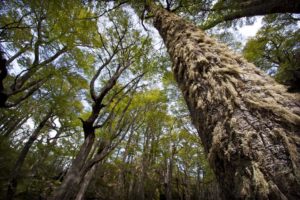 One of Patagonia's iconic trees, Nothofagus pumilio thrives in the area due to the low temperatures and heavy snow during the winter. This lenga woodland is a natural habitat for many animals and there is a good chance to see Magellanic woodpeckers, Austral parakeets, Chilean flickers and other small birds. Not only that, but you might also catch site of pumas, the so-called "Andean Lions" that also roam the forest.
But perhaps the best part of these adventures is the amazing vistas of Laguna Azul (Blue Lagoon) and Cerro Paine on the eastern side of the massif. Exclusively for hotel guests, the Bosque de Lenga is a half day tour while Valle Encantado is an all-day tour that includes a lunch box featuring Chilean specialties, created by the Hotel Las Torres chefs.
Our highly qualified guides are an important part of the experience, bringing local color and knowledge to the trip. They come from different professional backgrounds and are trained by our experts on local flora, fauna, geology and the environment. But all of them have one thing in common — a love for Patagonia and horses.
Horseback excursions are led by our own local baqueanos (gauchos) who literally grew up in the saddle and are master horsemen by anyone's standards. Their traditional cowboy gear of baggy trousers, beret and neck scarf, as well as a knife and leather accessories, is authentic Patagonian horsemen's attire.