New! Biking Torres del Paine
January 8, 2019 - 2 minutes read
If you thought Torres del Paine National Park in Patagonia is only for hardcore hikers, think again. Hotel Las Torres is expanding its activities for the upcoming 2018/2019 summer season to include mountain biking.
Guests will be able to explore Reserva Cerro Paine section of the celebrated Chilean national park on a half-day cycle excursion, renting bikes by the hour, or part of a multi-activity program that also includes trekking, horseback riding or rock climbing.
Biking is an awesome way to explore the 10,800 acres of privately owned land that Las Torres oversees inside the boundaries of Torres del Paine. Marked as "Terreno Privado" on park maps, the Reserve Cerro Paine sprawls between Lake Nordernskjöld in the south, the Rio Paine in the east and Lago Paine in the north — a vast area that visitors were only able to navigate by foot and horseback in the past.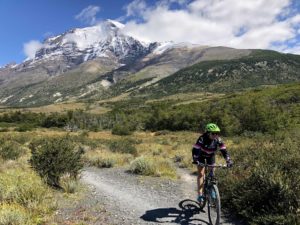 Whether you choose self-guided cycling or the multi-sport option, the hotel's excursion team will help you pick biking trails based on your interests, the amount of time you want to spend in the saddle, and desired activity level.
Two longer biking routes take you about half a day to complete. One route is ideal for those with minimal pedaling experience or don't feel like a particularly arduous trip, since it's mainly flat. Running between Hotel Las Torres and Lake Nordenskjöld, the path features incredible views of Monte Almirante Nieto and the lake.
The second, more difficult route features river crossings, and steep climbs and descents, as it meanders to various lakes. Along the way, you'll have plenty of opportunity to view the park's gorgeous landscapes and local fauna, especially birds.
For those who want to really challenge their physical abilities, the Las Torres excursion team can arrange a multi-activity program that combines mountain biking with climbing at Puma Cave, a large rock formation with three levels of climbing difficulty: basic, medium and expert.
Excursions in Torres del Paine
,
Las Torres Patagonia
,
Mountain Biking
,
torres del Paine National Park