Our Newest Video Star: El Chileno
October 12, 2017 - 1 minute read
Fantastico Sur has produced a new video on Refugio El Chileno, part of a series that outlines the facilities at their mountain camps in Chile's Torres del Paine National Park.
Located along the famous "W" hiking trail, El Chileno is the ideal place to overnight for trekkers who want to reach the base of the towers (Mirador Los Torres) before dawn so they can watch the spectacle of the sunrise reflecting off the granite spires.
El Chileno is heated and offers a restaurant, shop and four mixed dorms that accommodate eight people each on bunk beds (sleeping bags available). The shared bathroom is for the exclusive use of refugio guests.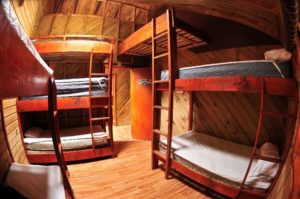 There are also 50 camping sites with a bathroom (with 24-hour hot water) exclusively for campers. Tents, sleeping bags and insulation mats are available to rent.
Refugio is a Spanish word with its closet English translation being "refuge" — as in a mountain refuge or camp. They are found throughout the national park and offer overnight accommodation for multi-day hikers along the W Circuit.