Playing in Punta Arenas
January 11, 2018 - 5 minutes read
It doesn't matter if you've got a few hours or a few days to explore Punta Arenas before or after your stay at Hotel Las Torres or trek with Fantástico Sur — either way the city at the bottom end of Chile offers plenty of options.
Punta Arenas highlights (a few hours)
Sticking close to the Plaza de Armas (main square) you can visit the small cathedral, the Magellan Monument in the middle of the square, and the Magallanes Regional Museum inside the historic Casa Braun-Menéndez. The latter, perhaps the best museum in Patagonia, affords a glimpse into the privileged life of the elite European immigrants who settled the region in the early 20th century.
End your short tour with a pisco sour at the Shackleton Bar, located in one of the region's oldest buildings — the 25-room Hotel Jose Nogueira. The flamboyant structure was once the mansion of Don José Nogueira and Doña Sara Braun, who are credited with penning much of the history of Patagonia.
Full day itinerary
To get your bearings, climb or drive up to the observation point at Cerro de la Cruz (Crucifix Hill), which affords an all-encompassing view across Punta Arenas and the Strait of Magellan (with Tierra del Fuego in the distance).
About a half hour drive from the middle of town, Cerro Mirador Ski Center offers two lifts and 11 km of pistes for winter sports between June and September. There's a city bus service to the ski area on weekends. Outside of ski season, the hill renders great city views. Alternatively, Club Andino Centro de Ski is a small club with one lift and great views. During the warmer months, follow hiking trail around the hill.
With more time to explore, visit some of the city's other museums, in particular the fascinating Museo Salesiano Maggiorino Borgatello (Salesian Museum). Founded in 1893, the museum specializes in the indigenous peoples of Patagonia.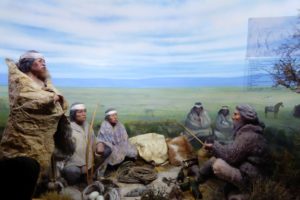 Another worthwhile collection is the privately-owned Museo Nao Victoria, a maritime museum where visitors can interact with full-sized replicas of famous vessels like Magellan's Nao Victoria flagship and Darwin's HMS Beagle, as well as weapons and navigational tools that contributed to the discovery and colonization of the area.
The Municipal Cemetery affords a surprisingly beautiful and tranquil stroll through gardens graced by ornate tombs. Modeled after Recoleta Cemetery in Buenos Aires, the burial ground is divided into sections for different groups of pioneer settlers including Croatians, Germans and British.
Quite a few tour companies can fix you up with a day of kayaking, walking, biking, skiing, horseback riding, wildlife tours and more at the southern end of the Chilean mainland.
If you've got a few days in Punta Arenas, you can head out of town for more adventure:
Traveling North
Maybe the biggest attraction when heading north is actually offshore. A short ferry ride will take you to Isla Magdalena (Magdalena Island), a little island in the Strait of Magallan where you can go to watch thousands and thousands of penguins in their natural habitat.
About 120 miles from Punta Arenas, Parque Nacional Pali Aike sprawls across 12,500 acres. The main event is Pali-Aike volcanic field. But the national park also shelters guanaco, gray fox, Patagonian chingue skunk, puma and many bird species.
Traveling South
Reserva Nacional Laguna Parrillar, which is about 30 miles from the city, takes its name from a large lake that freezes over in winter but offers excellent trout fishing during the warmer months between October and March. The park offers shoreline picnic areas and hiking trails through a forest thick with native lenga and coigüe trees, as well as a wide variety of animals and birds.
A little bit farther south are historic Fuerte Bulnes (1843), Cuidad del Rey Don Felipe (1584) and Port Famine (1826), where groups from Chile, Spain and Britain tried to create early settlements in order to claim the area for their particular nation. Unfortunately, none of these attempts were successful due to the inhospitable terrain and weather. Nowadays those pioneers are remembered in monuments and a reconstructed wooden fort, barracks and chapel.