Read All About It: Lost World of Mt Roraima
August 17, 2018 - Less than a minute read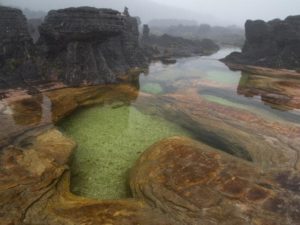 News.com in Australia offers a photo-filled story on the iconic, flat-topped mountain that hovers above the border shared by Guyana, Venezuela and Brazil.
Quotable quote: "Mt Roraima is believed to have inspired the setting for Arthur Conan Doyle's 1912 classic The Lost World, where prehistoric creatures survived on a plateau. It certainly fits the bill. Defended by seemingly impenetrable 400-metre-high cliffs, the flat summit of Mt Roraima is home to many species found nowhere else on Earth. These endemic plants and animals have developed to be truly out of this world."
Originally published in the Lonely Planet book The World's Great Wonders, read the rest of the story by Jheni Osman here.
Conan Doyle
,
endemic species
,
Guyana
,
Lonely Planet
,
Lost World