Read All About It: Patagonia's daunting "Riders on the Storm"
October 9, 2018 - Less than a minute read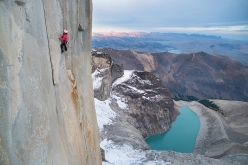 The Planet Mountain website posted a story about two female climbers trying to make the first free ascent of "Riders on the Storm" — a 1,300-meter-high, sheer granite wall at Torres del Paine.
Quotable quote: "Established during six stormy weeks at the end of 1990 and the start of 1991 . . . this route is considered a true crown jewel in Patagonia's end of the world climbing repertoire . . . Seeing the caliber of the team and the beauty of the line, the first free ascent soon became a plum objective throughout the big wall climbing world."
Read the rest of the story here.
adventure travel South America
,
free ascent
,
rock climbing
,
Torres del Paine