Read All About It: Touring Darjani Market in Zanzibar
April 9, 2018 - Less than a minute read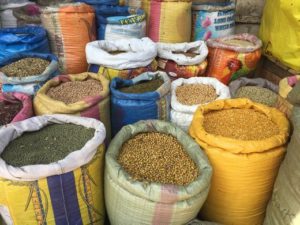 USA Today showcased exotic Darajani Market on the island of Zanzibar with a feature story that ran with no less than 55 photos.
Quotable quote: " A walk through the market, its present structure dating to 1904, is like seeing ancient trade routes collide. Pyramidal piles of turmeric, neat rows of piri piri chili pepper, bags of cardamom pods and saffron, vats of dried hibiscus, handcarts brimming with avocados, Indian rice alongside cloves and coconuts… A vendor prepares freshly pressed sugar cane juice, while ladies wrapped in colorful khangas cook up chapatis over an open-air fire."
Read the rest of the story by Mary Winston Nicklin, who toured the market with chef Lucas Wollman of Elewana's Kilindi Zanzibar resort here.