Seven Fun Things to Do In and Around Longyearbyen
May 21, 2019 - 5 minutes read
As the MV Hondius makes its maiden voyages through the North Atlantic and around Spitsbergen (Svalbard) this summer, here are some tips on how passengers can spend your time in the capital city of Norway's wild Arctic archipelago.
Despite being one of the most remote settlements on the planet, Longyearbyen is filled with entertaining diversions to while away the hours (or days) on either side of an Arctic cruise with Oceanwide Expeditions.
  1. Svalbard Museum: Longyearbyen's glimpse into the past
Opened in 1979, the Svalbard Museum is probably the most extensive of the four museums on Spitsbergen — the archipelago's main island — composed more than 1,700 art works, photos, and books.
The Museum is a great way to whet your appetite for your Arctic expedition, offering fascinating insights into 400 years of local history. Exhibits explore European whaling, bird migration, Pomor culture, and local nature.
  2. Svalbard Bryggeri (brewery): The place for pints in Longyearbyen
After a visit to the Svalbard Museum has expanded your awareness, a stop at the Svalbard Bryggeri (or brewery, if you're not so very Viking) will enliven your palate.
Located at 78° north latitude, Svalbard Brewery is the world's northernmost commercial brewery. The proprietors had to lobby for Norwegian law to be changed in 2015 for permission to legally brew alcohol in Svalbard.
Enjoy one (or more) of the brewery's signature craft beers  16% of the liquid content made with water thawed from 2,000-year-old Bogerbreen Glacier.
Svalbard Church: Earth's almost-northernmost church
Svalbard Church was the world's northernmost church until the St. Nicolas Church was built in Nagurskoye, Russia. Even so, Svalbard's worship house is nothing if not a survivor: After being built in 1921, it was bombed in WWII, only to be rebuilt in 1956. The church's silver altar candlesticks and baptismal bowl were gifts from King Haakon VII and Queen Maud of Norway.
North Pole Expedition Museum (Spitsbergen Airship Museum) 
The North Pole Expedition Museum (previously called the Spitsbergen Airship Museum) opened in 2008 — a noteworthy date for several reasons.
For one, it was the 80th anniversary of the crash of the Italia, the airship used by Italian engineer, aviator, and Arctic explorer Umberto Nobile to fly around the North Pole. It was also the 30th anniversary of Nobile's death, and several descendants of Nobile and Roald Amundsen (who died while trying to rescue the Italia crew) attended the opening ceremony of the museum.
Exhibits delve into major air-based Arctic expeditions, in particular the airships America, Norge and Italia.
Svalbard Husky: Have dogs, will travel
Svalbard Husky is a family-owned, ecologically friendly business with about 100 dogs, focusing on sledding expeditions that can carry visitors out of Longyearbyen and into the Arctic wilderness for short excursions (1.5 hours), longer outings (4 hours), and even overnight trips.
Tours include northern lights viewing and visits to natural landmarks, where guests are taught to assist in handling the huskies, experiencing the work of a real Arctic dog musher.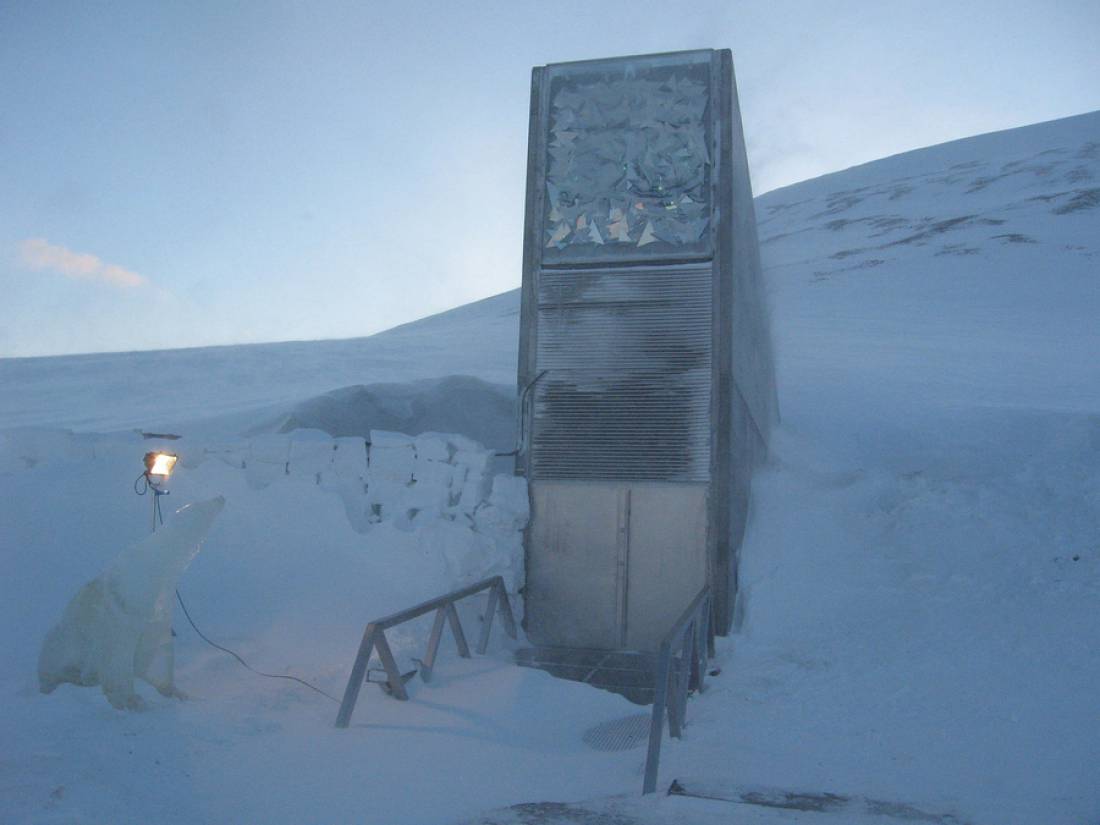 Svalbard Global Seed Vault: Longyearbyen's famous plant stash
You've probably already heard about the Svalbard Global Seed Vault, due in no small part to the rapidly escalating news about global warming — and the fact that this phenomenon is human caused according to 100 percent of peer-reviewed scientific findings.
At least some humans are trying to do something about it: The Svalbard Global Seed Vault (known simply as "The Vault") is where the world's largest backup reserve of genetic crop material is being safeguarded for future generations.
Almost a million seed samples from nearly every country on the planet are stored there.
Although visitors can't simply stroll out of Longyearbyen and visit to The Vault, they can book one of the regular organized tours that take travelers near the entrance.
Other Longyearbyen activities: More than you might expect
Those planning to linger in Longyearbyen a few days before or after their cruise have a multitude of other activities to choose from, among them hot-air ballooning, skiing, snowmobiling, kayaking, cycling, boat tours, ATV safaris, horseback riding, or anything in-between sounds attractive). Check out Visit Svalbard to explore the many options.
dog sledding
,
Earth's almost-northernmost church
,
Longyearbyen
,
Norway's wild Arctic archipelago
,
Svalbard Global Seed Vault