Sussing Out Santa Lucia Hill
June 12, 2017 - 2 minutes read
What's that heavily wooded hill sticking up in the middle of downtown Santiago? It's called Cerro Santa Lucia and it's the geographical feature around which the young city took shape 500 years ago.
Located less than a ten-minute walk from both the Lastarria Boutique and Luciano K hotels, the hill provides an easy, leafy escape from urban Santiago, as well as a panoramic perch to view the Chilean capital.
In ancient days it was called Huelén, a sacred mount to the area's indigenous inhabitants. Arriving on the scene on the 13th of December 1541, Spanish conquistador Pedro de Valdivia renamed it Santa Lucia after the Catholic saint whose feast is celebrated on that date.
The Spaniards didn't bother to construct fortifications on the hill until the early 1800s when Chile's independence movement was reaching critical mass. One of those bastions is the Spanish-colonial style Hidalgo Castle, which now crowns the summit. After years of dereliction, the castle is now restored and open to the public for weddings, receptions, exhibitions and other special events.
In the 1870s it was transformed into a splendid little inner-city park with fountains, terraces, paved walkways and a newfangled thing called gas lamps to light the way at night.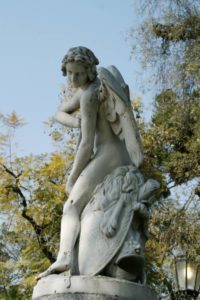 The park's most outstanding feature — the flamboyant Neptune Fountain — dates from that era. As do many of its other landmarks including a monument to the non-Catholic "despatriados" who were laid to rest between 1820 and 1872 in a heathen cemetery on one side of the hill.
The streets flanking the park provided a venue for several places where visitors can drink or dine before or after their exploration of Cerro Santa Lucia.
The menu at Waru Restaurante (Calle Santa Lucia 168) revolves around fresh fruit, vegetables and other vegetarian delights sourced from Chilean organic farms. Cafe del Opera (Merced 391) on the north side of the park is the place to grab a quick coffee, sandwich, salad, ice cream or pastry. For a bird's eye view of the park, quaff a cocktail at the rooftop Antano SkyBar (Merced 433).