The Amazon on Film
September 10, 2018 - 4 minutes read
Despite the inherent difficulties of filming in the jungle — like getting your camera equipment and crew housed, fed and healthy in a remote location for weeks on end — a number of high-profile movies have been filmed on location in the Amazon.
They range from box office hits and Oscar-winners to cult classics that portray the trials, tribulations and triumphs of people (both past and present) venturing into the world's biggest rainforest.
When you're ready to cruise the Peruvian Amazon with Jungle Experiences or explore the Guyana rainforest with our newest client, these are some of the flicks you should catch before your trip:
Papillion (1973): Also based on real events and a best-selling book, this all-time classic stars Steve McQueen and Dustin Hoffman as prisoners banished to Devil's Island in French Guiana. McQueen's character — who at one point escapes via the jungle — is based on Henri Charrière, a Frenchman wrongly convicted of murder who spent 14 years in the remote penal colony until his epic 1945 escape via nearby Guyana.
Fitzcarraldo (1982): This cult classic by German director
Werner Herzog is a fictional portrayal of late 19th-century rubber baron Carlos Fitzcarrald, who forced his indigenous workforce to haul an entire steamship overland through the Peruvian jungle. Herzog famously recreated the epic transfer during a movie shoot that took the lives of several crewmembers.
The Emerald Forest (1985): Apparently inspired by true events, this John Boorman film tells the story of a young American boy kidnapped by Amazonian tribe and spends years living among indigenous people in the rainforest.
The Mission (1986): Jesuits are the centerpiece of this Roland Joffe film about 18th-century Spanish missionaries (Robert De Niro and Jeremy Irons) trying to win the hearts and minds of the indigenous people living around Iguazu Falls. It didn't do great box office, but the film won the Palme d'Or at Cannes and was nominated for seven Academy Awards.
At Play in the Fields of the Lord (1991): Based on the best-selling book by Peter Matthiessen, revolves around American missionaries and bush pilots struggling among themselves and with the local indigenous people deep in the Brazilian Amazon.
Embrace the Serpent (2015): This critically acclaimed Spanish-language movie
captures two episodes in the life of Amazon shaman Karamakate, the last of his tribe — his 1909 encounter with a German scientist and his 1940 jungle walkabout with an American botanist. Shot in black-and-white, the movie was filmed on location in the Colombian Amazon.
The Lost City of Z (2016): Ill-fated British explorer Percy Fawcett is the focus of an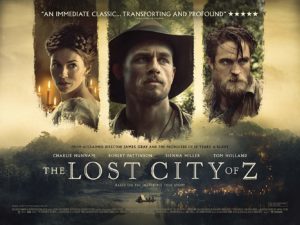 epic film that dramatizes his multiple expeditions to the Brazilian rainforest in search of a "lost" city and civilization he simply called Zed. Fawcett and his son mysteriously vanished on their 1925 expedition, although most theories postulate they were killed by indigenous tribal people.
The Lost World (1925, 1960, 1992, 1998, 2001): Sir Arthur Conan Doyle's 1912 science-fiction classic has inspired no less than five feature films — and by extension the Jurassic Park franchise. The original
story revolves around an expedition to a remote plateau in the Amazon Basin (modeled after the "tepui" mesas of Guyana, Venezuela and Brazil) where dinosaurs and other long-lost creatures survive.
Amazon on film
,
At Play in the Fields of the Lord
,
Embrace the Serpent
,
Emerald Forest
,
Jurassic Park
,
Papillion
,
The Emerald Forest
,
The Lost City of Z
,
The Lost World
,
The Mission