Top 5 India Wildlife Videos
December 14, 2018 - 1 minute read
Just in time for the holidays, Jungle Sutra recommends five videos about Indian wildlife that would make a great gift for family or friends during the festive season:
This riveting documentary by Dennis B. Kane and Thomas Skinner explores the strange and mysterious world of the Indian tiger. Clips from the film featured in "30 Years of National Geographic Specials."
Famed British naturalist David Attenborough narrates this miniseries about the lives of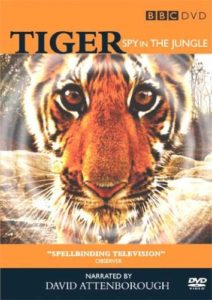 four tiger cubs using footage collected by hidden-camera-carrying elephants. Over two years, the elephants help capture the most intimate portrayal of tigers ever filmed.
Passionate English conservationist Collin Stafford-Johnson and his Indian friend and interpreter Salim present a unique documentary about a tiger family in Ranthambhore National Park, with the focus on exceptionally bright and inquisitive male cub "Broken Tail."
Each chapter of this TV series revolves around an iconic species (Bengal tiger,
Asian elephant, Asian lion, etc) of India's incredible wildlife. Each episode also draws a more general picture of an ecosystem found on the subcontinent (jungle, Himalayas, desert). Narrated by David Attenborough.
Tiger's Revenge (2014)
Director and cameraman Subbiah Nallamuthu spent two years in the Ranthambore National Park observing and capturing the life journeys of two tiger sisters, a poignant tale of love, rivalry, motherhood, and a tragic disappearance.
gift for wldlife enthusiasts
,
India wildlife
,
Indian wildlife videos