Travel back in time at the Amazon riverboat museum in Iquitos
August 13, 2018 - 1 minute read
La Perla and Zafiro are part of a rich history of steamboats on the Amazon. Before or after your cruise with Jungle Experiences, stop by the Museum of Historic Boats in Iquitos to learn even more about the fascinating history of navigating the Amazon.
River boats were critical to the history of the Amazon and Iquitos.
Naval boats protected the frontiers, explored unknown rivers and delivered mail. Rubber boats transported rubber from far off reaches of the rain-forest to Iquitos and Manaus and were vital to the economic boom of the early 20th century.
The museum boasts a fleet of four historic riverboats including Clavero — the oldest boat still navigating the Amazon River — and two rubber era cargo/passenger ships called the Ayapua and Rio Amazonas. Rounding out the fleet is the dredger Pithecia, now a floating research station.
With many of its original features still intact, the Ayapua is docked on the Iquitos waterfront beside the Plaza Ramon Castilla. Tucked into its three decks are permanent exhibits on the European
exploration of the Amazon, the Jesuit missionaries, steamship navigation, the rubber boom, geographers of the Peruvian Amazon and the movie Fitzcarraldo that was filmed nearby.
Museum admission also includes a 30-minute excursion in the Bay of Iquitos aboard the Amazonina, a restored launch that dates back to 1912.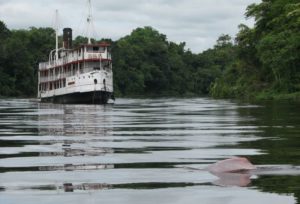 Amazon
,
Amazon Cruises
,
Amazon River
,
Jungle Experiences
,
Museums
,
nautical museums