Why It's a Good Time to Become a Nature Guide
September 11, 2018 - 4 minutes read
As the South African tourism industry continues to thrive — and the re-establishment of game reserves and natural wildlife areas continues — the opportunity for careers in ecotourism is on the increase. One such career is field guiding, or as it's more internationally known, safari guiding.
What's a Safari Guide?
A safari guide walks or drives safari camp or lodge guests in a national park or game reserve and interprets all elements of nature and wildlife surrounding them. They educate the guests about both the large and microscopic elements of the ecosystems, while instilling in them a deeper appreciation of nature and conservation ethics. The role of a safari guide is unique and very diverse. It involves being a guide, teacher, friend, game warden, doctor, storyteller and sometimes even a cook for guests! Each day in the wilderness is filled with new surprises and experiences.
Why Do a Wildlife Course?
EcoTraining courses combine the safari experience and environmental education into one package. By enrolling in our
one-year Professional Field Guide course, students receive the footing and experience necessary for many other environmental careers (should they choose not to pursue field guiding). The course is fully immersive — students live in and learn from remote wilderness areas in well-known reserves, rendering a feeling that they are an extension of nature. Course enrollment is limited to 20 per group, ensuring the personal attention necessary for all student to achieve their full potential.
Students also learning compassion and consideration for our planet. People need to become aware that the planet is under stress and that we need to learn how to live within the means of what nature can sustain. By sharing nature's processes, ecosystems and the importance of wilderness, EcoTraining seeks to equip people with the skills necessary to effect positive change in the world.
What Happens After the Course?
Upon completion of a professional nature guide course, students are qualified to take guests out on safari game drives and guided wilderness walks. During a safari guide's career, he or she usually works toward becoming a head guide. From there, the job opportunities branch out in several directions, for example, becoming a camp or game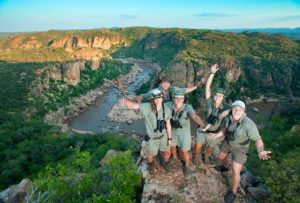 lodge manager or guide coordinator. Some qualified safari guides take advantage of other opportunities such as working as a specialist guide (birding, photography, plants) or as a freelance guide to safari operators that employ the use of highly specialized and experienced guides. The work can be lucrative.
Because guides spend so many hours in the wilderness each day, they are exposed to interesting sights and observations that not even top researchers get. These observations can lead to career paths like filming, writing, photography, art and consulting.
With the rise of so many developments in conservation and specialization of field guiding, there's no better time than the present to get involved and be on the forefront of the industry. To find out more about our Professional Field Guide course click here.
africa
,
African Safaris
,
EcoTraining
,
Safari Guide
,
safari guide training