7 Curry Re-imagined: A Seven Curry Tour with The Singing Chef
April 16, 2020 - 7 minutes read
Curry is a universal dish. The aroma of spices intricately blended with each other creates a captivating yet intense sense of satisfaction with each bite. Now, imagine experiencing this in not one, but seven different ways. That's right, seven. Eon John, known locally as the Singing Chef, and partner Jessica Hatfield have created an immersive, delectable seven curry experience, with an interesting twist.
What is Seven Curry?
Seven curry is a traditional Indo-Guyanese delicacy prepared and served at Hindu religious functions. This dish is traditionally served inside a giant water lily leaf, and consists of seven different types of vegetarian curry, all prepared to mouth-watering perfection. Pumpkin, mango, bhajee (callaloo), baigan (eggplant/boulanger), eddoe, catahar (breadnut) and potato and channa (chickpeas) are all curried and served with your choice of rice, puri and/or dhal. Condiments such as mango/tamarind achar (pickle), pepper sauce and sometimes Indian sweet meats may also be served, depending on the function.
Eon's new seven curry itinerary is a packed one. Covering a vast six hours, both locals and international travelers will experience the entire process of preparing seven curry – from picking the water lily leaves to preparing the meal.
Once you have booked a seven curry experience, a comfortable shuttle will pick you up from your hotel at 8:00 am. Your first stop will be to gather the purine (water lily) leaves which will be plated with all the curries once the meal is prepared. An accessible and secluded spot is usually selected, where you will receive instructions on how to remove the lily leaves from their stalks. If you're curious, you could be treated to a taste of the edible nuts found within the lilies.
Next, you'll stop at one of Guyana's busiest markets, Bourda.  Here, you can source many of the vegetables for the curries. Bargaining is a staple of Guyanese culture, so feel free to haggle. Sampling coconut water is also a part of the experience. Sip it straight from the shell at Buddy's, a local vendor. Listening to Buddy's family history in the coconut business takes just as long as you'd take to consume a coconut – short and sweet.
Your hosts will then take you to Tony's Puri Shop. At this local, family-owned business, you will experience the puri-making process. The four-man operation is seamless, from stuffing seasoned split peas into the dough, perfectly sizing each puri and rolling it expertly with a repurposed vodka bottle. The taste, superbly complemented by the moistness of the perfectly kneaded dough, is even better. It's delicious, especially when topped off with fresh, local fruit juice. Locals boast that Tony currently makes the best puri in Guyana, and supplies thousands daily. See and taste for yourself.
Next on the agenda is a stop at the Edward B. Beharry & Company Ltd. to observe the processing and packaging of the very famous Indi branded curry powder and spices. These will be used to prepare your seven curry. Plan to wear closed shoes and don hair caps and facemasks provided by your hosts to minimise the intense smell of the spices that may trigger a sneezing fit!
Soon afterward, you'll arrive at the Singing Chef's cozy kitchen at the Pergola Smoke House & Lounge for a seven curry cooking lesson. Participate in every step of the cooking process – from de-shelling the katahar and preparing the curry paste, to selecting, measuring and mixing each organic ingredient that goes into the dishes. Throughout the process, Eon will share interesting stories about and the history of seven curry. His version of the seven curry is made with an interesting twist – coconut oil. The health benefits of coconut oil are well documented. Eon's use of this oil not only slightly deviates from the traditional seven curry ingredients, but also promotes a health-conscious lifestyle. Use of all organic ingredients  contributes to an amazing and distinctive taste that Eon is famous for.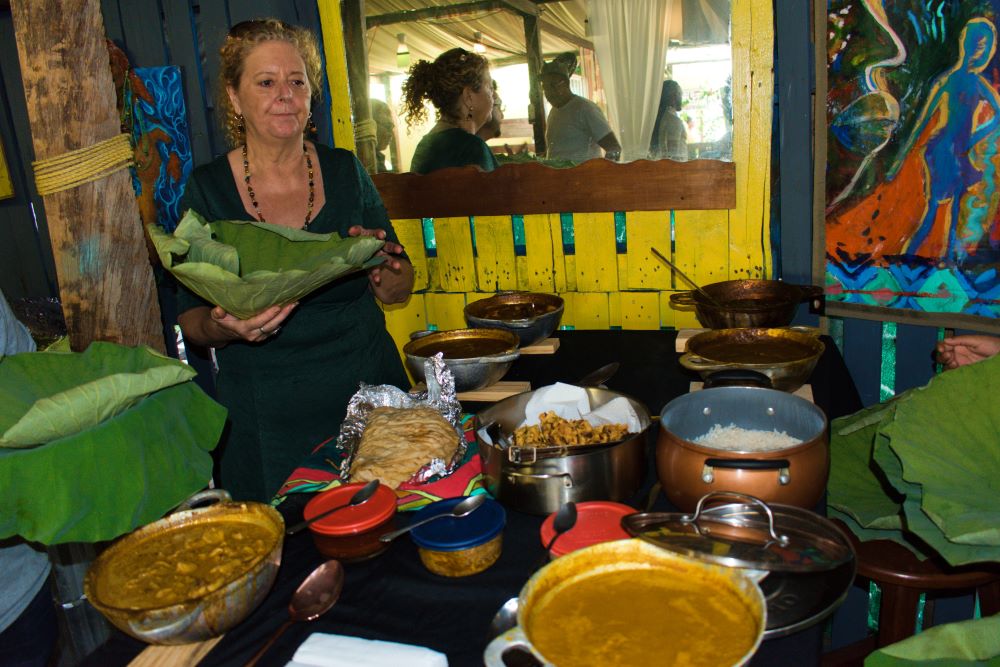 As the cooking winds down, the smell of all seven curries emanating throughout the room will whet your appetite. You will then gather your leaves, choice of beverage and curries and enjoy the fruits of your labour. Opt to eat with utensils, or go traditional and eat it sanay – with your fingers. As the locals usually say – the messier, the better. During or after the meal, Eon will show you why he's known as "The Singing Chef" by performing some original songs inspired by Guyana.
With bellies, minds and hearts full, you will depart by shuttle to your hotel, filled with unique memories that will undoubtedly last a lifetime.
Travel Better in Guyana
In Guyana, we recognize we have a responsibility to protect and conserve our spectacular natural and cultural treasures. We're equally blessed that so many of our visitors want to lend a hand in doing so. To find out what you can do to help, please check out our Visitor Guidelines For Sustainable Travel. We look forward to welcoming you to Guyana.
Guyana curry
,
Guyana food
,
Visiting Guyana
,
What to do in Guyana