Adventure Canada Joins Emerging Destinations
October 1, 2018 - 2 minutes read
We're pleased to announced that Adventure Canada is joining the Emerging Destinations portfolio in October.
Founded in 1987 and based near Toronto, the company is dedicated to taking intrepid travelers to Canada's "blank spaces" — areas like Nunavut in the Canadian Arctic, Labrador and Newfoundland on the East Coast, the Yukon and northern British Columbia coast in Canada's far west — places whose remoteness alone makes them special destinations.
Beyond their homeland, Adventure Canada also offers journeys to Ireland, Scotland, Ecuador and the Galapagos
Islands, East Africa, Costa Rica, Panama and the Antarctic.
Inspired by a belief that there is so much to see "beyond the binoculars," Atlantic Canada strives to delve deeper into these destinations with every expedition and continually seeks out new shorelines to discover and explore.
Adventure Canada cruises are carried out in a wide variety of smaller vessels, from a 68-foot ketch called the Island Roamer and the Yacht La Pinta, to the 198-passenger Ocean Endeavour and the 108-passenger Hebridean Sky.
These small expedition ships are ideally suited for remote exploration. They allow access to landfalls where larger vessels cannot venture — some of the most remote places imaginable — the key to expeditionary travel.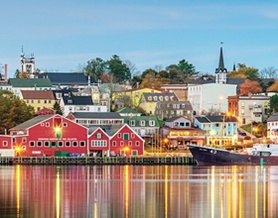 In addition to the aforementioned voyages, Adventure Canada offers a series of specialized departures that focus on the art and culture or natural history and photography of an area under the "Art is Adventure" and "PhotoWild!" programs. These trips are specifically crafted to allow time for in-depth exploration and discovery with the guides selected for each.