Check This: Icelandair's New Baggage Policy
January 30, 2017 - 1 minute read
Economy class passengers on all Icelandair flights booked in North America are now allowed just one free checked bag and one personal carry-on item.
The new policy, which took effect on January 17th, does not impact passengers traveling to Iceland on Saga Class or Economy Comfort, who will continue with two free checked bags and one personal carry-on. And gold or silver Saga Club members and passengers booking with American Express Premium and Business credit cards will still enjoy one more bag on top of the normal allowance at no additional cost.
Economy passengers wh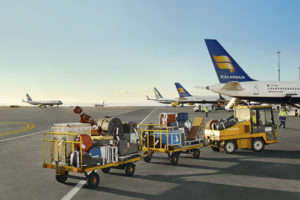 o purchased their air ticket prior to January 17th will continue to have two free bags included in their airfare.
As part of the new policy, Icelandair is offering passengers a 20% discount on fees for additional checked bags. However, the payment must be made in advance, either online or via an Icelandair sales representative. In addition, Icelandair has increased the baggage allowance for children (ages 2-11) on all routes, allowing parents to check-in a stroller as well as one bag.