Connecting Uganda & Dubai (UAE) with Uganda Airlines
December 20, 2021 - 4 minutes read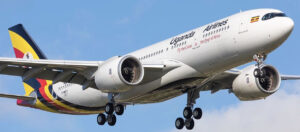 Good news has reached the Adventure Consults sales team! Uganda Airlines recently launched a flight from Entebbe to Dubai. This has made Uganda's connection with the international world smooth! With more flight options to/from Uganda, travelers can easily connect to the Pearl of Africa without much difficulty.
At the beginning of October 2021, we shared the joy of the National carrier's (Uganda Airlines) launch of flights from Entebbe International Airport to Dubai in the United Arab Emirates (UAE). Since then, Uganda's newly acquired Airbus A330neo has been running flights from Entebbe to Dubai three days a week.
As of the end of November 2021, the 3 day schedule of Monday, Friday and Saturday is working well. See the current schedule below, but note that it's subject to change, so please check with us (sales@adventureconsults.com) or check with the airline directly – Uganda Airlines for more UpToDate schedule.
Mondays;
Flight UR444 depart Entebbe at 11:25 hours and arrive in Dubai at 17:25 hours
Return flight UR445 departs from Dubai at 20:00 hours and arrive in Entebbe at 00:01 hours (one minute into Tuesday).
Fridays;
Flight UR446 depart from Entebbe at 22:40 hours and arrive in Dubai at 04:40 hours the following day.
Return flight UR447 depart Dubai on Saturdays at 06:35 hours and arrive in Entebbe at 10:35 hours.
Saturdays;
Flight UR444 depart from Entebbe at 22:55 hours and arrive in Dubai at 04:55 hours (Sunday morning).
Return flight UR445 depart from Dubai on Sundays at 07:30 hours and arrive at Entebbe at 11:30 hours.
Plans are underway to add more days of the week on the Entebbe-Dubai route which is good for all our clients who connect via the this route.
On related development, the national carrier is expected to start flights to more international cities (London, the Chinese port city of Gungzhou and India's Mumbai in the first quarter of 2022).
Adventure Consults does not organize or sell international flights but are always happy to recommend a travel agent or reliable carriers for the best routing to/from various destinations worldwide. Check out our short notes on how to get to Uganda or get in touch – sales@adventureconsults.com
Best Time to visit Uganda.
Uganda has a lot to offer (check out our Holiday options) Safaris are available all year-round, although the best trekking, hiking and game-viewing periods are during the dry months of June through early September and late December through February. Since Uganda lies across the equator, daytime temperatures in most parts of the country are consistently warm all year. Temperatures can be much cooler in the higher altitudes of Uganda's mountains and forests especially at night. The Virunga Volcanoes, which straddle Uganda, Rwanda and the Democratic Republic of Congo are higher than Bwindi and thus tend to be cooler. The rainy seasons peak from late-September to November (with short rains) and from March to May (long rains), and gorilla tracking during these times can be more challenging but very interesting and nice for quality pictures. Adventure Consults therefore recommends that you take Uganda holiday whenever you are ready as you may avoid the "official" rainy season only to find that it pours throughout your visit during another period!