Elsa's Kopje Rises to the Top
September 17, 2016 - Less than a minute read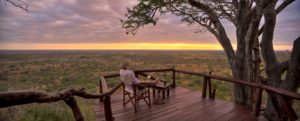 Elewana's landmark camp in Meru National Park, Elsa's Kopje has been honored with an Andrew Harper 2016 Readers' Choice award, ranking number 12 in the "Best Safari Lodges and Camps" category.
The rankings are based on an annual independent reader survey in which the discerning followers of the Andrew Harper vote for their favorite hotels and resorts. Among the other categories are beach and city hotels, U.S. and international hideaways, hotels that specialize in food & wine, spas and golf, as well as family-friendly resorts and cruise lines.
All of the winners will be promoted on the Andrew Harper website for the duration of 2016. Here's a link to the story — Top 20 Favorite Safari Lodges Camps.