Is the "W" Circuit Your Kind of Thing?
February 18, 2017 - 1 minute read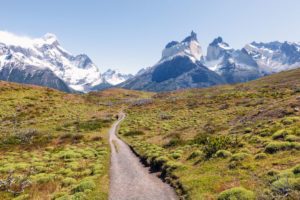 Expedition cruises around Tierra del Fuego and the bottom end of Patagonia may be what Australis is known for among adventure seekers. But the Chilean cruise company is also into promoting the region as a while. Especially places like Torres del Paine National Park, one of the world's most stunning natural attractions and a place of pilgrimage for trekkers from around the glove.
One of the latest online offers from Australis is a blog on how to Decide Whether the W Trek in Torres del Paine is Right For You. To help potential trekkers answer that question, the story asks four basic questions:
Are you comfortable hiking up to 15 miles (24km) a day?
Are you happy camping or staying in a dorm room?
Do you have the correct equipment and clothing with you?
Would you like more of an adventure?
The blog also features a downloadable Australis "Practical Guide to Planning Your Next Vacation In Patagonia" as well as links to the Torres del Paine trekking services offered by Fantastico Sur. Another good source of information is the Hotel Las Torres, sister company to Fantastico Sur and the rustic upscale resort where many trekkers stay before and/or after their W Circuit hike.