Jungle Experiences Comes Onboard
May 10, 2018 - 1 minute read
A veteran of more than 25 years exploring and cruising the Peruvian Amazon, Jungle Experiences has joined the Emerging Destinations family.
Using two state-of-the-art riverboats, Jungle Experiences takes passengers on a magical journey of discovery along the world's largest river, through a region renowned for its rainforest, wildlife and indigenous peoples.
Two distinct Amazon experiences are available: Luxury cruises aboard the 19-suite MV Zafiro with its private balconies and panoramic windows; and adventure cruises on the 14-cabin MV La Perla with its king and queen beds, outdoor hammocks and lofty observation deck.
Based at the port of Nauta near Iquitos in northeastern Peru, the Jungle Experiences riverboats offer three, four and seven night itineraries up the Amazon and into the maze of waterways that comprise Pacaya Samiria Reserve, one of the best national parks in the entire Amazon Basin.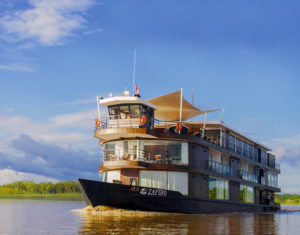 Jungle Experiences cruises are designed for the safety and well-being of all passengers. As part of its commitment to sustainable tourism, the company works intensively with local communities, providing them with resources to improve their quality of life and conserve the environment. They also contribute to the Association for the Conservation of Amazonian Biodiversity (ACOBIA).