SeaTrek Sailing Adventures adjusts Indonesia itineraries
August 20, 2018 - 4 minutes read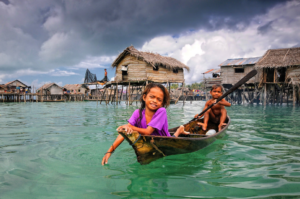 No doubt you have heard of the unfortunate effects of the recent earthquake in North Lombok.
While this has been a hardship for our friends in the affected area, it has offered us a unique opportunity to visit two beautiful, new and fascinating destinations, Kanawa Island and the Sea Gypsy village of  Bungin. We have already implemented this program into our itinerary and it will run on our Dances, Dragons & Magical Lakes cruise until the end of September.
One of the underlying reasons for this is our friends and colleagues in Senaru Village have respectfully asked us not to visit for the time being as they regroup and get their lives in order. The other is to ensure that your customers remain safe and worry free in the knowledge that we will be taking them to places far away from the affected area of Lombok.
It has been a tragedy for the people there, including our friends and colleagues in Senaru Village where we take guests. Thankfully, despite much damage to property, they are all safe. The mobilization effort to get food and shelter to the affected areas by many businesses and NGOs on the ground here in Indonesia has been immense and we are thankful to have been a part of it.
(click on map to enlarge)
NEW ITINERARY
You can see the revised itineraries on our website, but for a quick glance I have outlined it here below.
Komodo to Bali – Day 7
We will wake up at anchor off  Bungin Island, home to a group of Bajau 'Sea Gypsies', famous for living in stilt houses above the water and living entirely off the sea. It is the second largest Bajau settlement in Indonesia and will provide you with an amazing and rare opportunity to experience a part of Indonesian culture that is a huge part of the country's seafaring tradition.
Click here to read more about these fascinating people.
After lunch on the boat we will set a course 10 miles farther west to the beautiful white sands of Kanawa Island in West Sumbawa, where we will snorkel, paddleboard, swim and explore the island's beaches, grasslands and corals throughout the afternoon.
Bali to Komodo – Day 3
Itinerary will be the same as Day 7 on the Komodo to Bali trip, except in reverse. We will wake up at anchor off Kanawa Island and (after lunch) set sail for Bungin Village
We do hope that this adjustment finds favor with you and your guests and we know that they will be equally as enthralled by the replacement activities that we have planned.
A message from Michael Travers
Marketing and Communications
SeaTrek Sailing Adventures
I you have any questions, please don't hesitate to contact me directly: michael@seatrekbali.com
Jalan Tukad Balian 133, Renon, Denpasar 80226
Bali, Indonesia
Tel: +62 361 474 3902 | Cell: +62 813 3732 0497
info@seatrekbali.com | www.seatrekbali.com