SeaTrek 101 — Why We Sail Where We Do
September 18, 2018 - 3 minutes read
Without a couple of key pieces of information, it's a little hard to make sense of why SeaTrek Sailing Adventures starts the year sailing around the easternmost end of Indonesia (Maluku and Raja Ampat) before moving to the Bali region and then back to Raja Ampat all in the same year. It's all about the winds, the waves and the weather.
Our schedule is arranged with guest comfort in mind. We know you like to sail in smooth water, so we follow the ancient "wisdom of the spice traders" when arranging our itineraries. These ancient seafarers sailed east bringing goods to the Indies from the Middle East and Africa on the Western Trades Winds, then returned with their gold-like cargo of spices on the Eastern Trades Winds.
Our guests do actually get to experience a bit of that trading history on our updated, traditional wooden pinisi boats of almost the same historic design — and built by the same culture — as the ships of ancient times, just with a lot more comfort.
In September, when the Western Trade Winds start to blow, we cruise through the renowned Spice Islands, where cloves and nutmegs were worth more than their weight on gold, before heading to Raja Ampat with its whale sharks and phenomenal snorkeling, and to visit the island homes of the exotic birds of paradise. Then, in late February, we head across to the beautifully diverse island of Sulawesi as the Trade Winds once again start to shift back to the East.
In April, the weather pattern in Indonesia changes from the warm winds of the west to the cooler winds of the Eastern Trades, which last until September. This season features Komodo dragons of Flores Island, swimming with giant mantas, and raveling through a myriad of local cultures and volcanoes on our way to the renowned Hindu culture of Bali. We should also mention that our Orangutan by River Boat pre- or post-trip can be added on to any "Dances, Dragons and Magical Lake" departure between April and the end of July.
Here is a little clip that gives a brief description of our boats and Raja Ampat:
Our Schedule:
The trips are color coded according to sail color of our boats — Light Red for Katharina and Blue for Ombak Putih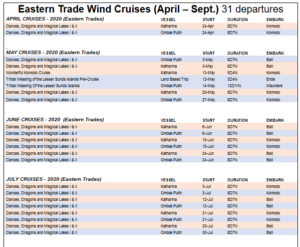 Bali
,
exotic cruise
,
exotic small ship cruise
,
Indonesian cruise
,
Raja Ampat
,
Seatrek