Belugas, Bears and Blooms
January 28, 2019 - 3 minutes read
Thinking about some northern exposure this summer? Adventure Canada offers a land-based expedition (with boat trips) to view beluga whales in Hudson Bay and polar bears near Churchill, Manitoba.
During July and August, beluga whales migrate into the warm shallow waters of the Churchill River near Churchill to give birth. Viewing hundreds of the adorable white whales by boat is an experience you'll never forget!
The trip also includes an exploration of the Churchill Wildlife Management Area by tundra buggy, with a chance to spot and photography many species of northern wildlife — and perhaps even an opportunity to see the first of the summer polar bears as they migrate into the area.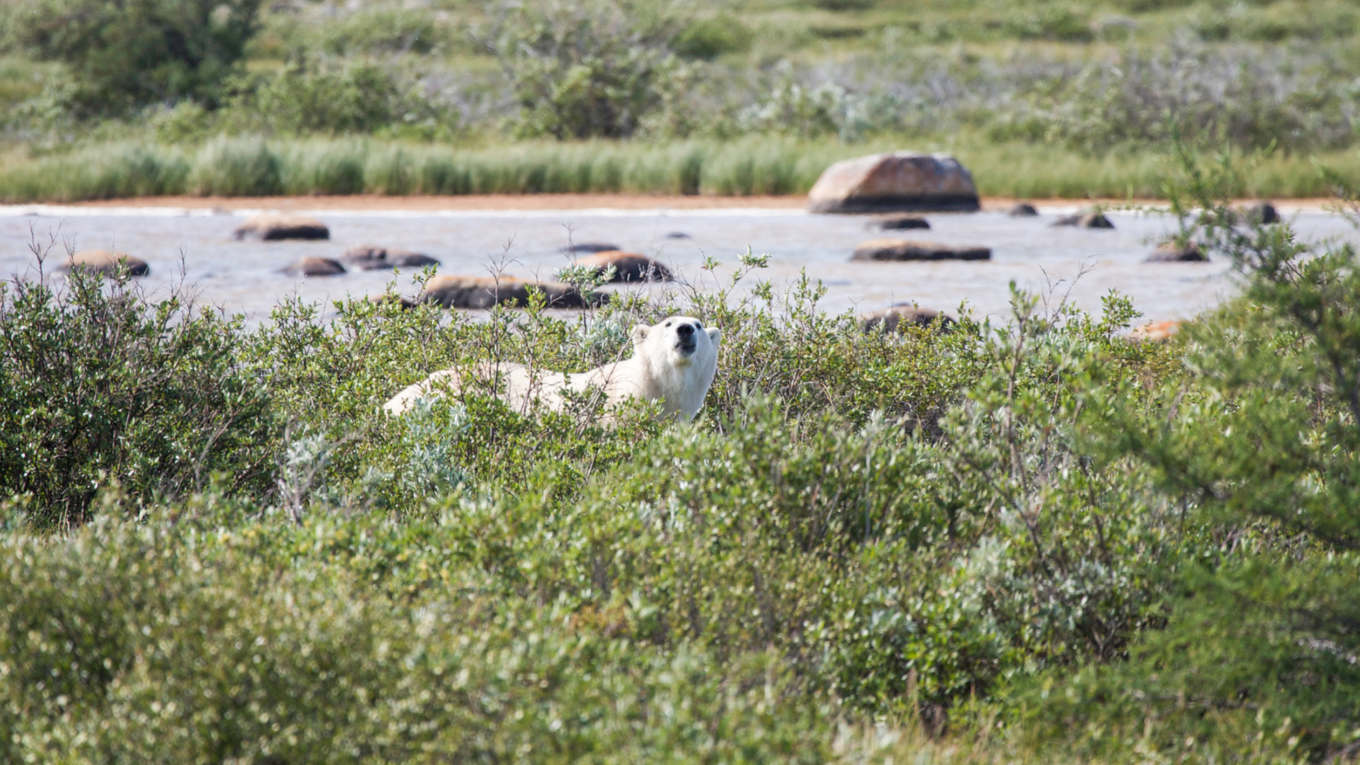 The expeditions start and finish in Winnipeg, Manitoba. Groups are kept to a maximum size of 22 people. The required fitness level is "light."
2019 Departures:
July 18-23
August 8-13
August 21-26
Itinerary:
Day 1 Winnipeg City Tour
Manitoba Legislative Building, the Exchange District, and St. Boniface — a French-speaking community. We'll also stop at The Forks at the confluence of the Assiniboine River and Red rivers.
Day 2 Churchill Area Tour
Flight from Winnipeg to Churchill over prairie, taiga and tundra. Upon arrival, we'll visit Cape Merry, the town's famous "Polar Bear Jail," the Parks Canada Interpretive Centre, and Eskimo Museum (which houses one of the world's most extensive Inuit art collections).
Day 3 First Day on the Churchill River
Three-hour boat cruise to visit the belugas of the Churchill River followed by a walking tour of Prince of Wales Fort to learn about the famous explorers who lived there during the 18th century. Next, we'll join a local dog musher for an excursion through the boreal forest.
Day 4 Beluga Zodiac Tour
Zodiac excursion providing an opportunity to get even closer to the extraordinary, curious beluga whales. The afternoon is free for self-exploration of the Churchill area.
Day 5 Churchill Wildlife Management Area
Exploring the Churchill Wildlife Management Area by tundra buggy in search of summer polar bears, Arctic foxes, hares, and a wild array of plants and flowers. Then it's back to the airport for the return flight to Winnipeg.
Day 6 Winnipeg
Depart Winnipeg depending on your independent travel arrangements.
Included:
Return flights between Winnipeg and Churchill
Two nights at Winnipeg hotel
Three nights in Churchill hotel
All tours as outlined in this itinerary
Meals from dinner on Day 1 through dinner on Day 5
Interpretive Guide
Not Included:
Commercial flights to/from Winnipeg
Personal items
Mandatory emergency medical and evacuation insurance
Discretionary trip cancellation and interruption insurance
Alcoholic beverages
Discretionary gratuities
Any expenses incurred due to changes beyond our control
Beluga Whales
,
Land-based family trips
,
Polar bears
,
Summer family trips