Connecting with Mother Earth in the Amazon
November 24, 2019 - 3 minutes read
If you're a nature lover and want to explore the heart of the world's most incredible rainforest, here's a selection of the most authentic experiences that connect you with nature during an Amazon cruise with Jungle Experiences.
Swimming with Amazon Pink Dolphins
The mere act of diving into an Amazon lake or river is already an experience of a lifetime. Feeling the energy of the world's largest river on your skin changes you. And if you add the magnificent pink dolphins of the Amazon Basin, the experience is magnified even more.
Pink dolphins are only found in a few places on our planet. Their color makes them particularly beautiful. In the Peruvian Amazon, they swim freely in their natural habitat. Observing them with the respect they deserve, sharing a moment with them, is an experience of pure connection that you will not want to miss on your Amazon cruise.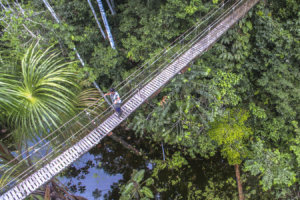 Walk Across A Jungle Suspension Bridge
Among the treetops of the Amazon rainforest, there are pedestrian-only suspension bridges that allow you to discover the forest from a new perspective.
Walking above the trees you'll discover a new way of observing the world from above and the exotic species that live in the rainforest canopy. If there's on thing you will always remember about your Amazon cruise, it will undoubtedly be your walk across a jungle suspension bridge.
Admire the Amazonian Night Sky.
In one of the most remote places on planet Earth, the incredible darkness of the night sky allows you to admire the stars like nowhere else.
After a day of adventure in the Peruvian Amazon, gazing up at the stars, planets and constellations is undoubtedly the best way to end the day. Perched on your riverboat's observation deck, you can easily observe nature's light show and enjoy the awesome peace of this moment.
These are only three examples of ways you can connect with nature in the heart of the Amazon. If you're looking for a trip where you can discover new landscapes and really connect with the greatness of our planet, without a doubt an Amazon voyage is for you.
Jungle Experiences has some special promotions to take advantage of now. It's time for you to plan a trip that will change your life. Check out these promotions and embark on a magical journey through the Amazon.
Amazonian Night Sky
,
Jungle Experiences
,
Jungle Suspension Bridge
,
Special promotions for Amazon river cruise
,
Swimming with Pink Dolphins