Cruising the Amazon Is For You If . . .
July 20, 2019 - 3 minutes read
There are trips in life that awaken the soul, that transform the traveler. There are experiences that have their own energy, which connect travelers to their true selves. Traveling to the Amazon is one of those wonderful experiences.
Travelers who recognize themselves in one of the following three descriptions will undoubtedly enjoy your trip along the largest river in the world and through our planet's greatest rainforest on the luxury and adventure cruises offered by Jungle Experiences.
You're a nature lover and admire the majesty of planet Earth
Discover why the Amazon rainforest is one of the planet's most biodiverse ecosystems, a landscape that explodes with countless species of flora and fauna. Learning to love and respect the beings that inhabit the jungle is an incredibly enriching experience.
The Amazonian landscape also presents a unique opportunity to capture incredible photographs. From our onboard observation decks and the expedition boats that take us into the jungle, you'll record memories and images that remain with you for years to come.
 You feel the need to relax, reconnect with yourself and embark on a unique adventure
Sometimes everyday life overwhelms and exhausts us. We need quality time to recharge our mind, body and spirit. Floating down a remote South American river on a Jungle Experiences cruise, you'll always find time to breathe, contemplate and clear your mind.
In an immense environment like the Amazon, how can you not focus on both yourself and what makes this planet so wonderful? Slow down and savor each discovery. One of the priorities for our expedition teams is to ensure that each traveler has a personalized experience.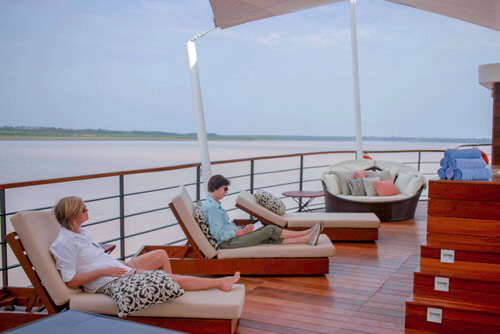 You're passionate about discovering new cultures and discovering the most authentic aspects of each country you visit
The magic of any country is always its people. And for any traveler, discovering new ways of living and sampling new cultures for a few days is an intensely enriching experience.
One of the aims of our Amazon cruises is for passengers to immerse themselves in the ancestral customs of the native communities of the Peruvian rainforest. Visit the communities, participate in their rituals and celebrations, get to know their gastronomy — our shore excursions and walking tours provide multiple opportunities to achieve that authentic experience.
 If you identify with any of these three points, it's time for you to embark on an Amazon journey with Jungle Experiences. Check out our special promotions and reserve your cruise today.
Amazon Rainforest
,
Jungle Experiences cruise
,
planet's most biodiverse ecosystems
,
trips that awaken the soul