Jungle Sutra's Fixed Departure Indian Wildlife Safaris
February 14, 2019 - 5 minutes read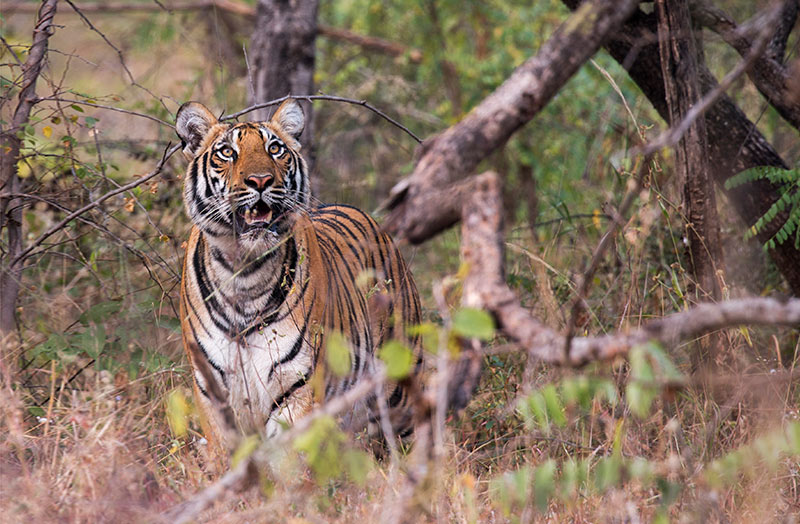 Ready for the wild side of India? Jungle Sutra is offering the following guaranteed departure safaris (with a minimum of two guests) for the 2019/20 season.
All tours have a maximum size of 12 guests, with the exception of Red Panda which is limited to 8 guests. Here's the rundown:
Footprints in the Wild/In Search of the Bengal Tiger
6-12 October 2019: Delhi, Ranthambhore National Park, Delhi

2-9 May 2020: Delhi, Bandhavgarh, Kanha, Delhi
India is home to about 10% of the world's wildlife and the highest diversity of wild cats, including the royal Bengal tiger. A 2016 World Wildlife Fund (WWF) report put the global tiger population at around 3,890 — with 2,200 in India.
This itinerary is planned to give you the best chance of seeing the tiger in its natural habitat in Bandhavgarh National Park and Kanha Tiger Reserve. Apart from the tiger, leopard and jungle cat, the region features a large selection of birds, reptiles and other mammals.
Red Pandas & Sloth Bears
4-15 April 2020: Delhi, Singalila, Delhi, Satpura, Delhi
India is full of wonderful species waiting to be seen and photographed. But undoubtedly one of the cutest creatures of them all is the red panda. This animal is actually the world's only "panda" species because the giant panda of China is actually a bear. The eastern Himalayas is the only place where one can find red pandas and they are quite easy to spot there.
This safari takes you to two Indian states — West Bengal in the east (Singalila National Park) and Madhya Pradesh in central India (Satpura Tiger Reserve). These two regions differ vastly in terms of their terrain, bird life and mammalian life forms.
Singalila currently counts around 32 red pandas within its boundaries. Satpura, on the other hand, is known for a high density of sloth bears.
Snow Leopard Expedition
8-18 November 2019: Delhi. Leh, Ulley, Leh, Delhi
Ladakh, which is part of Jammu & Kashmir, is home to exceptional wildlife that can survive in the region's unique high-altitude landscape and mountain weather conditions. Ladakh's fauna has much in common with that of Central Asia in general and the Tibetan Plateau in particular.
Among the key mammals to look out for on this tour are the snow leopard, Eurasian lynx, Pallas's cat, Himalayan wolf, and Himalayan fox as well as birds like the golden eagle, lammergeier, yellow-billed chough, red-billed chough, and Eurasian magpie. For such an arid area, Ladakh boasts a great diversity of birds, with a total of 225 species recorded.
Tigers & Red Pandas
18 – 30 March 2020: Delhi, Singalila, Delhi, Kanha, Delhi
This program also takes you to two very distinct places — West Bengal's Singalila National Park and Kanha Tiger Reserve in Madhya Pradesh.
Singalila is renowned for its exotic Himalayan forest, an unspoiled wilderness that hover between 7,000 and 12,000 feet above sea level within an area of 78.6 square km. There are an estimated 32 red pandas within the limits of the park along with a number of other exotic mammals. It's also a birding paradise, with more than 300 species recorded here.
On the other hand, Kanha is excellent for exploring the deciduous forests of central Indian. The wildlife highlights of this region include the Bengal tiger, leopard and Asiatic wild dog along with a huge diversity of birds that are quite different to the ones that you find in Singalila.
Wild Explorations in Ramganga Valley
18 – 25 January 2019: Delhi, Corbett Tiger Reserve, Delhi
India boasts of about 1,250 species of birds including migratory birds that travel here from all over the world. Of this, about 600 species can be found in the Corbett Valley in the foothills of the Himalayas.
Among the region's feathered highlights are hornbills, kingfishers, woodpeckers, owls, vultures, raptors, ravine birds, forest birds and grassland birds
Bengal Tiger
,
Birding in India
,
Indian Wildlife safari
,
red panda
,
Sloth Bear
,
Snow Leopard
,
Trips to India