Making the Most Out of Your Shamwari Safari -A First Timer's Guide to a Drive Like No Other
January 30, 2015 - 6 minutes read
Our newest team member Jessie Bligh, recently returned from her first safari.  Here is her guide for a first timer.
I was sitting shotgun in a Land Cruiser making its way along a bumpy dirt road in Jock Safari Lodge's private concession in Kruger National Park with no idea what might be just ahead. You never really know on a game drive — it's not the Jungle Ride at Disney World where everything is predictable (and the animals animatronic). But on this particular day I got the surprise of my life. Because right around the next bend we came across hundreds of elephants drinking from a watering hole less than 50 feet
Mothers, babies, and massive bull elephants gracefully moved in and out of the scene, taking their turn at a trunk full of cool water on a hot summer day. Our vehicle was no bother to these amazing creatures. Every now and then I caught a curious pachyderm eye staring at us, but they peacefully continued about their daily routine. Estiaan, our Jock Safari Lodge guide, told us he'd never seen so many elephants gathered in one place in all his 16 years of guiding in South Africa. I could have watched for hours, an encounter that goes down as the highlight of my first safari.

When I say it was an experience like no other, I mean it. Take all your safari expectations and throw them out the window, because real Africa is much better than you could ever imagine. Watch videos, browse websites, read a dozen books — none of that prepares you for venturing into the African bush in person, for the emotional rush you get from both the wildlife and wide open spaces of places like Kruger.
As a first timer, I want to share some advice on how to make the most of your own Shamwari Group safari at any of our private game reserves (Shamwari Game Reserve or Sanbona Game Reserve) or our concession in Kruger, Jock Safari Lodge:
The ideal amount of time to spend in one game park is two to three nights. This gives you at least four game drives and a much better chance of maximizing your wildlife spotting. You've also got more time to get to know your game ranger and experience a traditional African boma (outdoor barbecue).
Make the most of your drives by sitting as close as possible to the ranger. You'll be astounded at the knowledge these guides have. Most of them are quite funny, too. Ask questions, listen carefully and take it all in. Your ranger is the catalyst to making the drives unforgettable. (Good safari ettiquette says that you should offer to change seats with people.
Ladies, pack a sports bra (or two). Not only do bush roads lack a dotted center line, they also lack pavement of any kind. Potholes and washboard ridges are far more common than smooth stretches. Trust me, the "girls" will thank you.
Put your camera down every once in a while. Although I may not have that many trips around the sun, I've learned to take in my unique surroundings as opposed to obsessing over snapping picture of every single thing. I cherish the pictures that I have and enjoy sharing and looking back on them, but I find myself wishing I would have put the camera down more and just enjoyed myself in the moment. A picture doesn't do justice when you're witnessing a leopard stalking it's prey right before your eyes.
As cuddly and friendly as they look, you may not get out of the vehicle to take a closer look. Believe it or not, someone actually asked the ranger if they could do that.
Binoculars (or "binos" as I learned they are referred to) may not be a common household item, but you're gonna wish you had a pair. Otherwise you won't be able to discover that elephants have the most beautiful brown eyes with extraordinarily long eye lashes. You see the wildlife so differently through the power of binoculars.
Base your weather research on what season or month you'll be going on safari. Although the South African summer months (Nov-Feb) are very warm, it often gets surprisingly cool at night because of the altitude. The weather is completely unpredictable and nothing is worse than a wet or freezing game drive. Prepare for all circumstances, pack accordingly and you'll be one happy camper.I could go on for hours about what an incredible experience I had in Kruger at Jock Safari Lodge, part of the Shamwari Group, but I'll leave you to start planning your South African trip of a lifetime.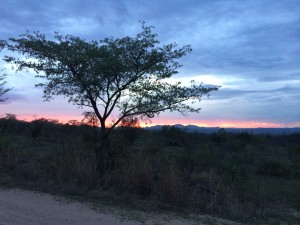 first time on safari
,
First time to South Africa
,
Jock Safari Lodge
,
shamwari