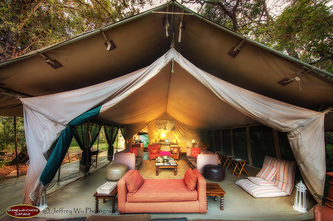 Let Cheli + Peacock Safaris arrange a classic African adventure experience at Nairobi National Park on the outskirts of Kenya's capital city.
The exclusive, 18-guest Nairobi Tented Camp offers a unique under-canvas experience that contrasts the wild and great outdoors against a stunning backdrop of the city's skyscrapers.
Nairobi Tented Camp is the first accommodation of any sort to be allowed in the small but wildlife-rich game reserve just 4.6 miles from the city center.
Each of the nine tents sleeps two people each in a canvas home-away-from-home that includes a private bathroom and hot-water shower.
Meals complement the authenticity of the safari experience by taking full advantage of the unique location: a warm hearty breakfast, light invigorating lunch served beneath the shade of an olive tree, and dinners of soufflés and tender beef fillet served under the starry night sky. Cold drinks are available from the fully stocked bar in the central mess tent.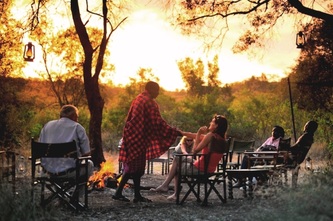 Tents are comfortably furnished with twin or double beds, bedside tables, wardrobe, ensuite toilet with bucket shower and sink, writing desk with lamp, LED lighting and luggage rack, as well as chairs and table on veranda for relaxing and viewing the iconic African landscape.
Whether you're in Nairobi for tourism, a single night stopover, business or conference, writing a book or making a movie, Nairobi Tented Camp offers a truly unique experience in the Kenya metropolis.