The Green Wave: Iceland ProCruises — Eco-Friendly Onboard and Beyond
July 23, 2019 - 3 minutes read
For companies like Iceland ProCruises that journey into pristine environments like the polar regions, ensuring that your cruises are environmentally friendly both onboard and beyond isn't just altruistic — it's also good business practice.
People flock to see destinations like Iceland and Greenland for the precise reason they are among the least polluted places in planet Earth.
Keeping things that way is one of the primary missions of IPC, first and foremost because the owners, crew members and expedition team guides cherish the North Atlantic landscapes they cruise through each summer and fall. But also because they realize that people will stop craving Arctic holidays if these amazing landscapes are ever spoiled.
In the first of our "Green Wave" series on how travel companies we represent around the world are helping to save the planet, we look at how Iceland ProCruises has made the MV Ocean Diamond more eco-friendly.  .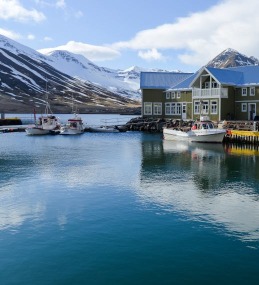 Respecting wildlife and nature
We care deeply about wildlife and nature; therefore we try to protect and respect them as best we can, and only observe them from a distance. By doing so, we minimize our impact on their natural habitat and behavior.
Waste management and reduction of plastic
Sorting and recycling waste are a matter of course for us. We also limit or avoid the use of plastic and disposable items (straws, stirrers, etc.) wherever possible and actively seek out and use environmentally friendly alternatives made of paper or other biodegradable raw materials. In addition, our guests receive high-quality water bottles that can be refilled and reused during the entire journey and beyond.
Cleaning agents and hygiene products that don't harm the water
Iceland ProCruises uses only eco-friendly and biodegradable cleaning and washing agents aboard Ocean Diamond. We provide biodegradable hair shampoo and shower gels in the cabins for our passengers.
Local food suppliers
To support the Icelandic economy and reduce transport emissions, around 80% of the food we process onboard is
purchased from regional traders in Iceland.
Sustainable seafood
The fish we serve onboard is all MSC-certified (Marine Stewardship Council). The MSC is an international nonprofit organization whose mission is protecting and preserving fish stocks worldwide and ending over fishing.
Reducing food waste
We offer guests the opportunity to select and assemble their own packed lunches. In our experience, this is a simple way to reduce unnecessary food waste.
Emission reduction and avoidance of heavy fuel oil
We use fuel pre-treated to reduce emissions and coke. And instead of heavy fuel oil to power our engines, we use marine gas oil (MGO) with less than 0.1% sulfur (Low Sulfur Marine Gasoil: LS-MGO).    
Arctic holidays
,
eco-friendly policies and procedures
,
least polluted places in planet Earth