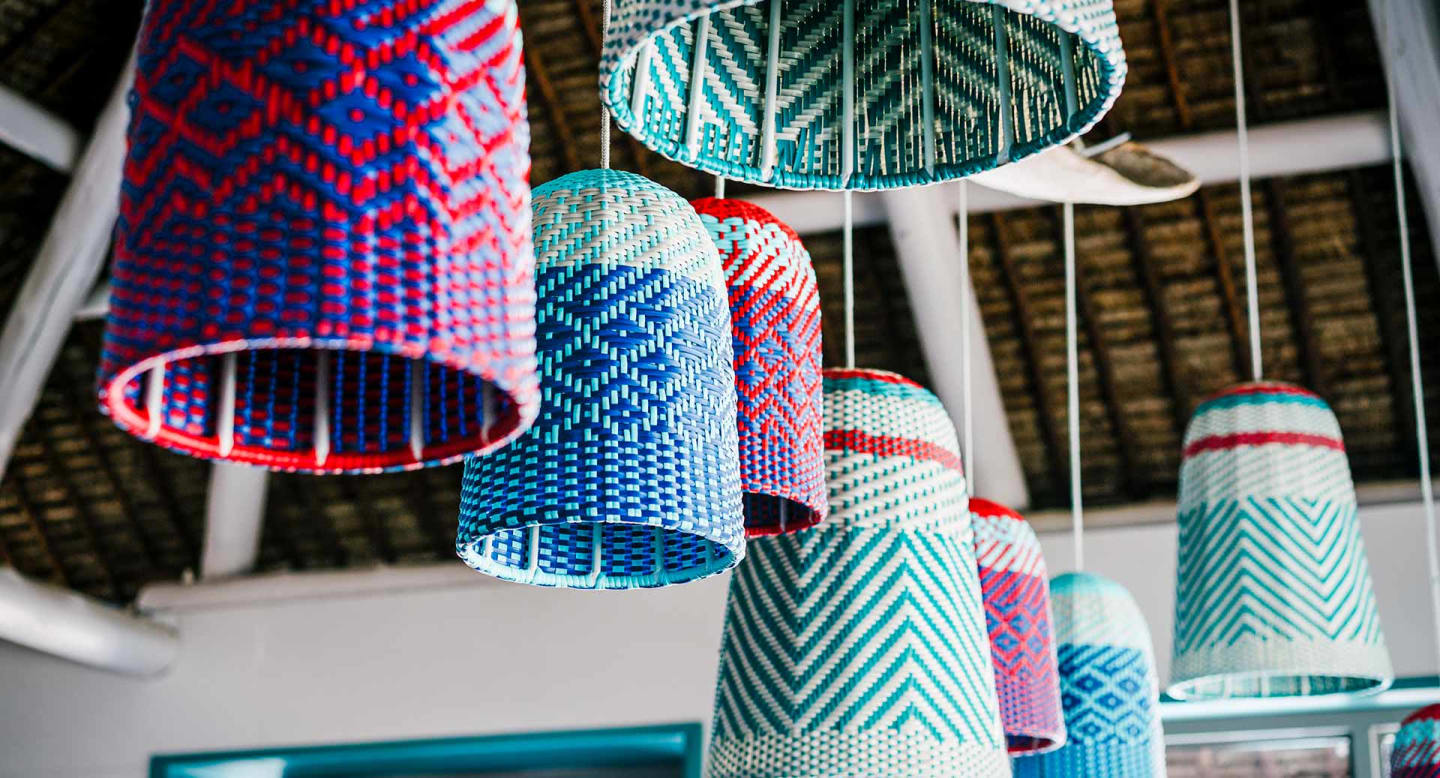 Vibrant Culinary Journeys, Steeped in African Romance
As an adults-only hideaway, Anantara Medjumbe Island Resort appeals to couples celebrating love, a honeymoon or anniversary. Culinary experiences enhance romance with intimate, exclusive dining. Seductive tastes of the destination unfold in Mozambique's bold flavors, recipes hailing from Portuguese colonialism and seafood plucked daily by local fishermen from the bountiful Indian Ocean. Astonishing views of pristine natural beauty entice travellers to linger, whether at the resort or adventuring offshore. Flawless service adds a sophisticated air. Belying its secluded location in the remote Quirimbas Archipelago, Anantara Medjumbe serves an incredible mélange of flavors and epicurean luxuries. Beyond the tantalizing menus, which serve as inspiration, each culinary experience is personalized to suit individual tastes.
Destination inspired dining with gourmet flair
Jahazi Restaurant welcomes guests to an elegantly rustic dining room. White rattan dining furniture is surrounded by hints of African culture. Wall-to-wall glass doors reveal a spectacular ocean outlook and can be opened to usher in the breeze. Mornings bustle quietly with guests creating their own breakfast from a menu of exotic fruits, cereals, cheeses and breads, eggs any style and fresh bakery delights, accompanied by classics with a twist such as 'Island Benedict with English muffin, lobster, poached egg, bacon, avocado and curry hollandaise sauce'. Lunch and dinner times present a choice of Chef's signature recipes in a whimsical journey of special three course set menus that change on a daily basis. Inspiring discerning palates with delectable western creations, spicy Mozambican specialties and ocean catches of the day transformed into seafood feasts, any of the dishes can be tailored to a guest's liking. Appetizer highlights include a 'Crabmeat papaya chili salad' and a 'Warm chicken and chorizo tart with tomato jam'. Main attractions include a rich 'Lamb curry with chutney, tomato relishes and Peri Peri with shima timbale and roasted vegetables' and a 'Seafood Extravaganza of foil roasted whole fish and seafood in Mozambican spices with Mozambican savory yellow fruits and nuts, rice and grilled vegetables in olive oil and garlic'. Sweet endings nod to tropical decadence, from a 'Lemon panna cotta on papaya coulis' to an 'Almonds Éclair with caramelised pineapple, vanilla Chantilly and Amarula ice cream', followed by an artisan cheese board. Meals are savoured with a range of refreshments and wines, along with tantalizing cocktails infused with tropical local ingredients, such as the 'Caipirinha' with island limes.
Elevated ocean panoramas at the Loft Lounge are admired from cosy armchairs and sofas, providing a charming haven for signature island-inspired mocktails and cocktails, such as the 'Blossom' cooler of homemade lemongrass and chamomile syrup, shaken with apple and fresh lime juice, topped with sprite and served over crushed ice. 
Boasting the most incredible view in the Quirimbas, refreshments are unforgettable at the Bahari Lounge Bar. Tempting guests to soak up the ocean's evolving hues, here the bar pleasures flow throughout the day and long into the evening. The African name 'Bahari' means 'one who sails' and keeping to this marine theme, the open plan layout welcomes in a gentle ocean wind and draws the eye to a captivating horizon. Couples can relax around cosy low tables or gather at the bar to watch bartenders craft signature cocktails. The 'Bloom in the Afternoon' is a long and vibrant concoction of fresh bell pepper, pineapple juice and fine gin on the rocks, with hints of lime and a touch of sweetness, making it a refreshing aperitif. After dinner, guests can return to enjoy the 'Banks of Medjumbe' tropical digestif, in which rich south African flavors are shaken with fresh lime and pineapple juice, and finished with light white rum and a twist of orange.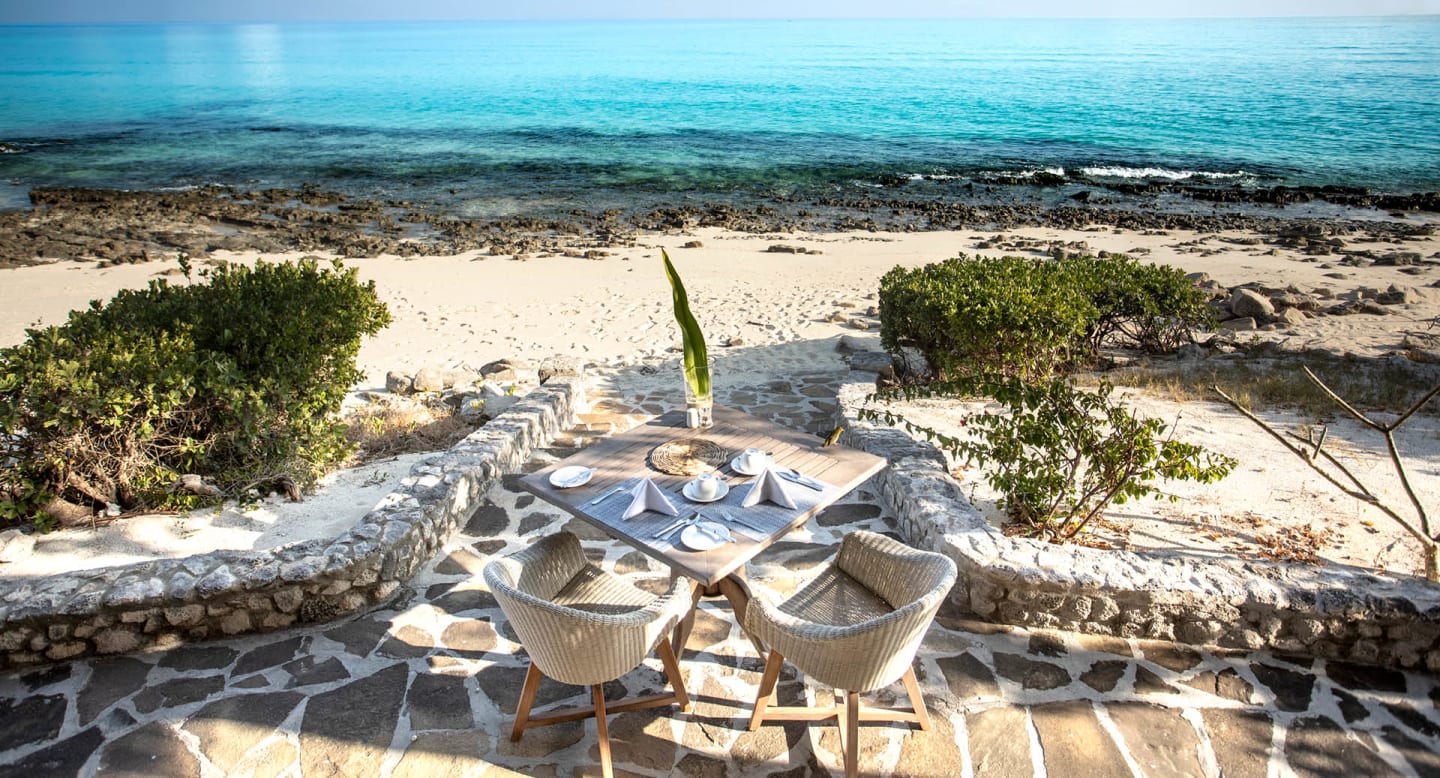 Island and ocean escapades sparkle with lavish tastes
From one isolated paradise to another, a picnic on Quissanga Island, just a 15-minute boat journey away, offers seductive solitude. A tailored menu of fresh salad creations and barbeque delights can be paired with a selection of beverages, served by a personal waiter and chef at a table set up in the shade of a coconut plantation.
For daytime boat charter experiences, onboard beverages are served with finger foods, such as samosas, spring rolls and tempura, making fishing and diving expeditions, as well as turtle, whale and dolphin watching trips, a delicious ocean adventure. At the most romantic time of day, a dhow sunset cruise sails across the bay, with glasses of sparkling wine in hand.
The ultimate in romantic private dining is a tailored gourmet journey with Dining by Design. Offering unique scenarios for popping the big question or simply celebrating a dream escape, every detail is bespoke. Any of the connoisseur menus can be fine-tuned or a tantalizing new menu created by a personal chef. At the perfect time, in the perfect place, a beautifully decorated table awaits guests – either on the pool deck of their private villa, or in barefoot luxury beside the waves.