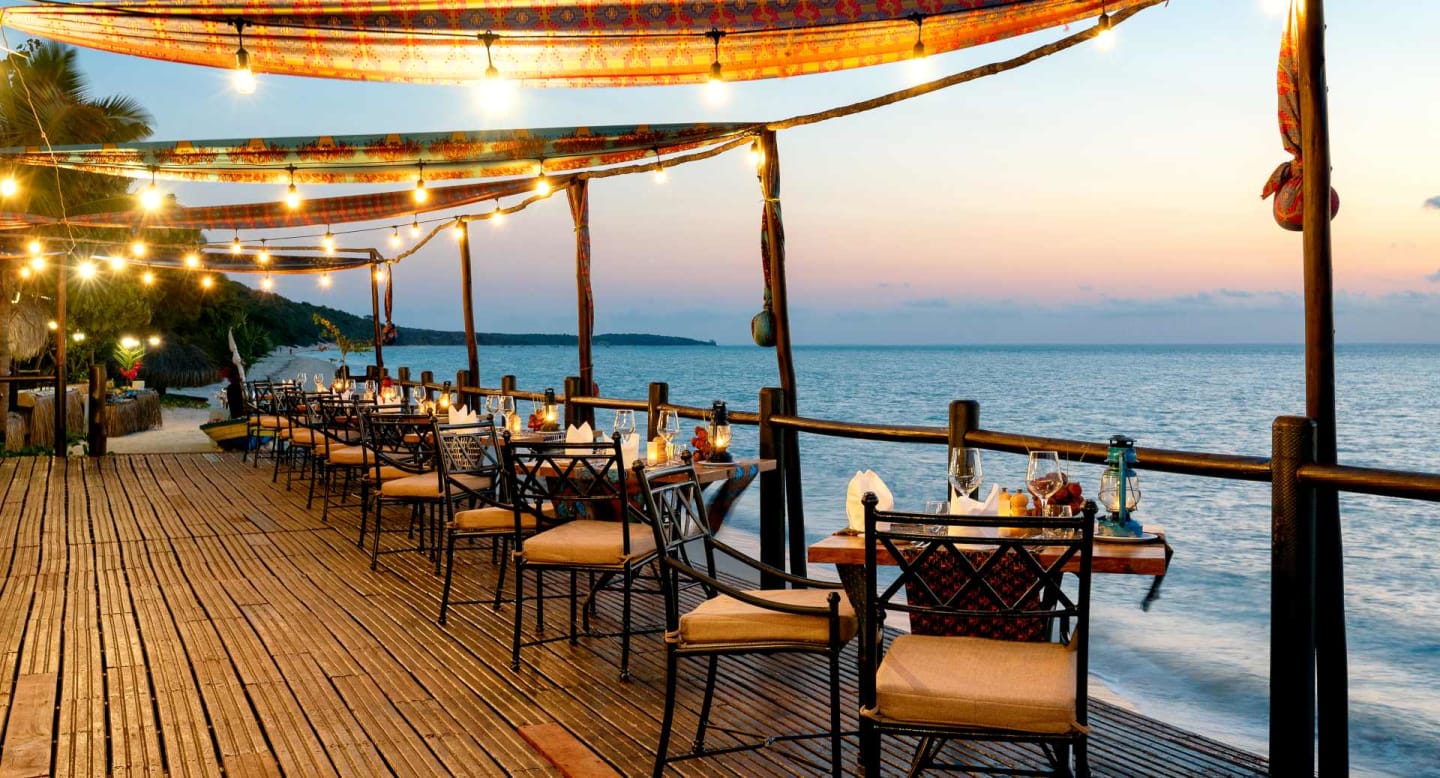 Vibrant Local and World Flavors, Unforgettable Ocean Views
Anantara Bazaruto Island Resort inspires discerning travellers with rich destination dining, integrating Mozambique's bold cuisine and flavors from Portuguese culture. Thoughtful menus, design details and incredible views arouse the senses. Refined gastronomy and fine wines from around the globe belie the remote location. Signature culinary concepts provide intriguing, flawless journeys, and iconic adventures are cushioned by gourmet indulgence.
The freshness and vibrancy of African island life makes products the hero at Anantara Bazaruto. The resort's vegetable garden and orchard provide Anantara chefs with a bounty of fresh produce. The best seafood, caught each day by local fishermen, is cooked to perfection with African and world flavors to offer lavish ocean dining. Breathtaking scenery ensures each experience is unforgettable. Island and ocean escapades create even more opportunities to relish the delights of talented chefs, while immersing in Bazaruto's natural wonders.
Three restaurants, countless flavors, endless views
Mealtimes are rotated between the resort's three distinctive restaurants – each opening on a different day to provide guests with delicious variety.
Mornings bustle with international favorites at Golfinho's daily breakfast, enjoyed on the garden terrace overlooking the pool and bay, or in the dining room. In the evening, themed dinners range from Mediterranean, Italian and Portuguese cuisines, to exotic Asian, Brazilian and Arabic specialties. Seafood BBQ and Mozambican evenings offer highlights such as 'Mozambican Crayfish Rice' paired with Boschendal Chenin Blanc, a South African white; a refreshing accompaniment to the impressive Mozambique crayfish or 'Piri-Piri Chicken', an iconic Mozambican dish which is a succulent feast of chicken cooked with lemon, pepper, garlic and piri-piri sauce.
 A relaxed setting beside the poolside bar, chill out deck and beach, Clube Naval provides a laid-back retreat to enjoy an à la carte lunch, watching little ones play in the pool and dhow boats drift by on the horizon. Glorious sunsets are saluted with tropical sundowners. Dinner turns into a fine dining experience with the Sea.Fire.Salt experience with the chef's creations, starting off with a 'Green Peas Soup' served with whipped truffle yoghurt and croutons. Signature dishes such as the 'Sesame Crusted Norwegian Salmon' and 'Crayfish Thermidor' are cooked on Himalayan salt bricks, adding a vibrant flavor to your meal.
Tartaruga offers an à la carte lunch menu and dinner buffet. Tables on the deck or white sandy beach draw the eye to a view of turquoise waters by day, and transition to magical evenings under the stars. Paying tribute to Portuguese cuisine, specialties include a 'Beef Espetada' seared rump and juicy pineapple, dusted in coriander and black peppercorn, served with butternut mash'. Succulent meats and Indian Ocean seafood offer a flame grilled feast.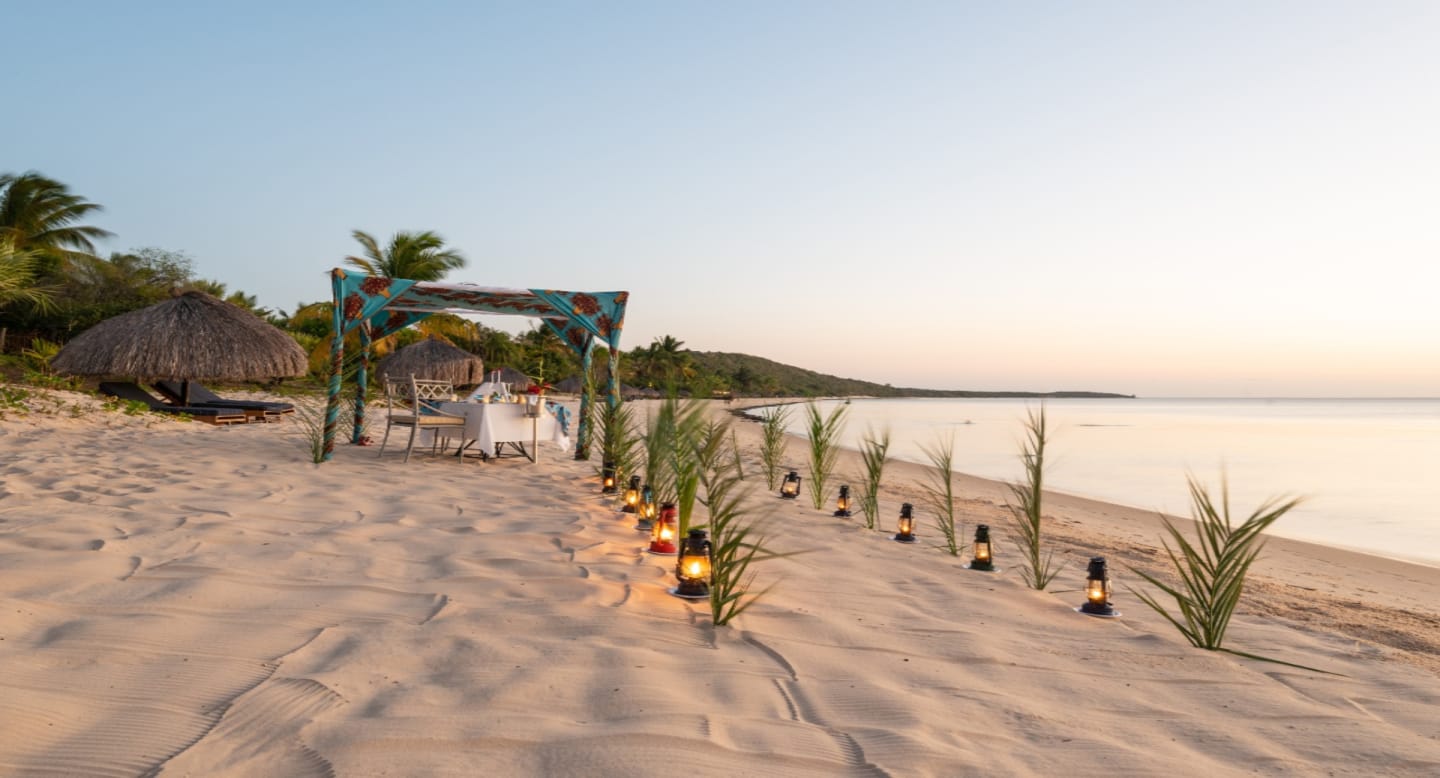 Romance savored in privacy with flawless service
In-Villa Dining caters for every craving – sumptuous family meals, sundowners on the deck, cosy dinners for couples and snack splurges in between. Even more seductive, Dining by Design tailors the ultimate celebration. A choice of fine dining menus is crafted by a personal chef. At the ideal time, a decorated table and butler await – on a deserted sand bank in the Indian Ocean, admiring sunset from the crest of a dune or cruising towards the last rays on a dhow boat, on the shoreline under the stars, in villa privacy, or the spa perched high above the resort.
Gourmet adventures abound
Richly interactive, Spice Spoons cooking classes introduce the essential ingredients of Mozambican cuisine with a guided tour of the resort's vegetable garden and orchard. With step by step guidance from an expert chef, students learn traditional techniques to craft authentic African recipes and sample their creations in a chef hosted meal. Taking home a Spice Spoons shopping bag with recipe cards, guests can host an African dinner party for family and friends.
Beyond the resort, Anantara's culinary offering is served while exploring island life and the Indian Ocean. Trips out on horseback ascend towering dunes for canapés and cocktails at sunset. The Honeymooners Hideaway excursion to Sailfish Bay promises total seclusion on a postcard-perfect beach surrounded by sand dunes, with a shaded tent set up for a picnic lunch. A choice of picnics and beverages are also offered in the boat charter experiences. Fishing expeditions guided by a head chef provide a glimpse into secrets of Mozambican cooking with travellers learning firsthand how to prepare them. After catching your own lunch and picking and choosing produce from the resort's vegetable garden, a step-by-step private class will ensure the fresh catch and ingredients become a beautiful meal. This unforgettable sea to table experience comes full circle with a glass of wine while relishing the creations.