Happy Birthday, Nunavut!
July 30, 2019 - 7 minutes read
It's been 20 years since the map of Canada was redrawn and the Inuit territory of Nunavut came into being. Canada's newest and largest political division was created in 1999 after a referendum in which 85% of the inhabitants voted to separate from the Northwest Territories and become Canada's 13th province or territory.
Sprawling across nearly all of Canada's Arctic islands and a huge chunk of the mainland, Nunavut comprises nearly 800,00 square miles — an area that would make it the world's 13th largest country if it was an independent nation.
Nunavut is also the heart of Adventure Canada's world, the location of many of the company's iconic cruises including voyages through the fabled Northwest Passage.
 Adventure Canada expedition team member Robert Comeau — an Inuk (Inuit) who shares his Arctic culture and experiences with passengers — discusses what the anniversary means for him, his family and his people:
My name is Robert and I am an Inuk. I was born in Frobisher Bay in the Northwest Territories. In 1999, my family and I were living in beautiful British Columbia. That's the year my mom, Udloriak Hanson, traveled home to what is now called Iqaluit — the capital of Nunavut.
Just as the Inuit reclaimed the Inuktitut name for Iqaluit in 1987 (instead of Frobisher Bay), 1999 marked another immense shift — the Inuit had claimed their position within Canada through the creation of the separate territory of Nunavut. In the 20 years since the creation of Nunavut, Inuit have continued to claim our space within Canada — not only through politics, but also through practicing, protecting, and sharing our unique culture.
But until I entered university, neither the Nunavut Agreement nor Nunavut as a territory had much of an impact on my life. Looking back now, however, I can see the immense importance it held for mom and the rest of my community. We created our own territory as an indigenous group; this accomplishment cannot be overstated.
In the 1970s, while many Inuit were still living on the land and sustaining themselves by harvesting, there were other Inuit using their residential school educations to become lawyers. They would go on to create the means for protecting our unique lifestyle — such as the Nunavut Agreement and the creation of our own territory.
This protection means safeguarding our language and our harvesting rights. Inuit society depends on our connection to each other and our environment. These connections come from knowledge produced since time immemorial. Inuit Qaujimajatuqangit — also referred to as Inuit Knowledge— is what Inuit know to be true. Our own form of science, you could say.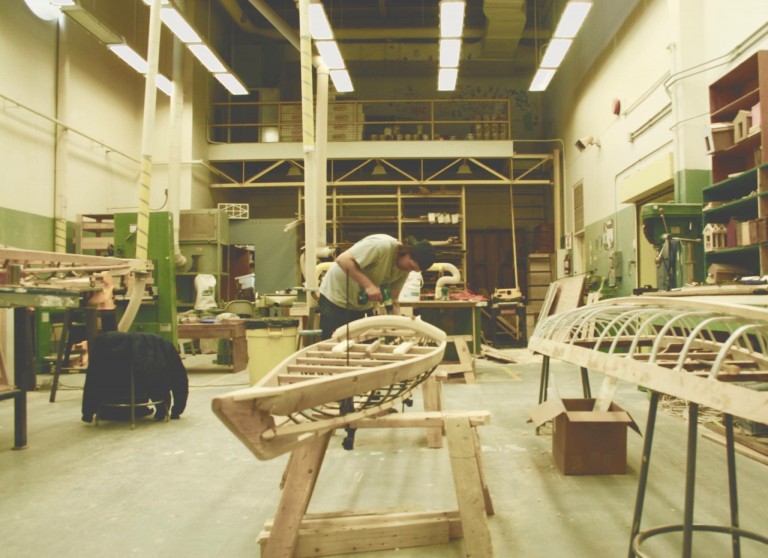 This knowledge system is what guides our language and harvesting. When we harvest other animals that sustain us — like fish, caribou, seal, or whales — our respect for the animals is front of mind. We are taught to use every part of the harvest, from the meat to the bones. Our elders teach us which parts to share with who and why. Each season, I give my first catch to my Auntie Kathy because she is my Arnaqutik. This means that she was there during my birth. This is one of the special relationships that I carry with me and is but one example of a complex family support systems that comprise our unique worldview.
What do Nunavut and the Nunavut Agreement mean to me? It is the living process of Inuit planning and doing what is needed in order to protect our way of life. Inuit express these ways of life in myriad ways. To this day, we create amazing music, we perform tremendous athletic feats, and we produce gorgeous clothing and works of art. We revere the knowledgeable hunters supporting their families. We respect our change-makers who work to incorporate Inuit Qaujimajatuqangit into the everyday functioning of our territory. So, on the 20th anniversary of Nunavut, it is important that we keep acknowledging these achievements and our values that guided them.
Now that I am able to understand the history of colonization in Canada and the impact it has had on my family, I need to make the conscious choice to use my privilege. How can I work to make things better for Inuit? One answer is simply talking with other Canadians about it. The more we can raise awareness about our challenges and achievements as Inuit in Nunavut, the better the chance that when Inuit speak, the south will listen.
This is where I challenge you to go beyond celebrating 20 years of Nunavut. No Canadians should ignore the great achievements made by Inuit — and no Canadians should ignore the immense challenges we face. With the Truth and Reconciliation Commission's 94 Calls to Action, or the Report of the Royal Commission on Aboriginal Peoples' 440 recommendations, there are ample resources for each Canadian to have a direct impact on how we move forward together.
The 20-year history of Nunavut marks the continuation of a tradition of resilient self-learning that has defined our culture for thousands of years — and will continue to do so for thousands more. As we pause to acknowledge these achievements, it also marks how far we still have to come as a country.
20 years since the creation of Nunavut
,
iconic cruises
,
Inuit territory of Nunavut
,
Nunavut Agreement
,
voyages through the Northwest Passage